When is the Britney Spears Lifetime movie? Air date, time, cast and more for 'Britney Ever After'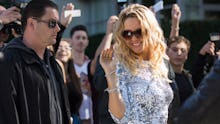 She is one of the most iconic pop stars of the 21st century. Before there was Lady Gaga, Katy Perry or Rihanna, there was Britney Spears. The pop star, who is famous for her hit singles, rocky relationships and later resurgence, will now get the Lifetime movie treatment in Britney Ever After. 
For those Britney fanatics out there, here is what you need to know about the two-hour biopic. 
When does Britney Ever After air?
Britney Ever After will see its world premiere on Saturday, Feb. 18, at 8 p.m. Eastern. The biopic will air on Lifetime, and is set to run until 10:04, so set your DVRs accordingly. Should you forget, or just miss the special, Lifetime will be re-airing Britney Ever After on Sunday, Feb. 19 at 12:02 a.m. and 8 p.m., as well as Monday, Feb. 20 at 12:02 a.m. 
Who is in the Britney Ever After cast?
Britney Ever After stars, among others, Natasha Bassett as Britney Spears, Clayton Chitty as Kevin Federline, Nicole Oliver as Lynne Spears, Nathan Keyes as Justin Timberlake and Jillian Walchuck as Paris Hilton. Bassett recently had a supporting role as Gloria DeLamour in the Coen Brothers film, Hail, Casear!
What is Britney Ever After about?
According to Lifetime, Britney Ever After will tell the "tumultuous story of pop icon Britney Spears' rise to fame, fall from grace and eventual triumphant resurrection, firmly securing her position as one of the world's greatest entertainers."
Take a look at the trailer for Britney Ever After below:
Mic has ongoing coverage of Britney Spears. Please follow our main Britney Spears hub here.