The Big Brother-esque line Mark Zuckerberg cut from his manifesto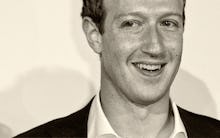 Mark Zuckerberg dropped a 6,000-word manifesto on Thursday, which is a lot of words for a message absent of anything majorly newsworthy. But as Mashable first spotted, an early iteration of the letter contained a line that might unsettle those who cherish their digital privacy.
An earlier version of the letter read: 
The long-term promise of AI is that in addition to identifying risks more quickly and accurately than would have already happened, it may also identify risks that nobody would have flagged at all — including terrorists planning attacks using private channels, people bullying someone too afraid to report it themselves, and other issues both local and global.
The line "including terrorist planning attacks using private channels" seems to indicate that Facebook considered using artificial intelligence to spy on users' personal messages. The line was wiped from the final version altogether, but the fact that Zuckerberg went as far as to type it out and consider it for the manifesto is scary. Zuckerberg ultimately settled on the following phrasing:
Right now, we're starting to explore ways to use AI to tell the difference between news stories about terrorism and actual terrorist propaganda so we can quickly remove anyone trying to use our services to recruit for a terrorist organization. This is technically difficult as it requires building AI that can read and understand news, but we need to work on this to help fight terrorism worldwide.
Zuckerberg then doesn't miss a beat to indicate that the Facebook team "are strong advocates of encryption" pointing to WhatsApp and Messenger, two Facebook messaging services with end-to-end encryption built in.
"Keeping our community safe does not require compromising privacy," Zuckerberg adds.
This is a point that directly contradicts a machine mining through users' personal messages, potentially dangerous or not.
We have reached out to Facebook for comment and will update with any response.