NSYNC reunion is needed now more than ever after Lifetime botches Britney Spears movie casting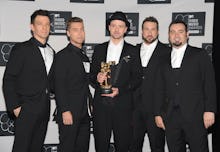 Lance Bass just hinted at an NSYNC get-together and the timing could not be better. During a recent ET interview, Bass simply said that members of the 90s boy band will be reuniting for the Hollywood Walk of Fame Ceremony this year. And that's not all. NSYNC also will be re-releasing some of its songs on vinyl. 
"We're coming out with a really cool vinyl edition of our Christmas album because it's coming up on the 20 years of that [Home for Christmas] album," Bass told ET. "And then we're going to be getting our star on the Walk of Fame this year at some point."
When exactly will the NSYNC reunion be? He says he's not sure.
"We're five guys, so for us to make a decision about anything is really hard, so we just need to do it," Bass told ET. "So hopefully maybe around Christmas time. It'll be fun to see everybody again."
Funny how Bass mentioned this news mere days before Lifetime's new Britney Spears biopic, Britney Ever After, premieres on Feb. 18. Could he be trying to divert America's attention from how awful the movie looks?
Just in time
Biopics are tricky territory. Hollywood either knocks them out of the park (Selma, The Social Network, Capote, The Elephant Man) or leaves them flailing midfield. Ever since Lifetime announced it was making Britney Ever After, we've been skeptical — and rightfully so. 
First of all, it seems premature (and wrong) to make an unauthorized biopic about a 35-year-old woman who is still very much alive. Second of all, we're protective of our 90s music. We knew this movie would not only include Brit, but NSYNC, too (Let's be honest; they are a package deal) .Last but not least, the preview photos are horrible. Please witness the botched casting, hair, and makeup. 
This is who Lifetime is trying to pass off as Lance Bass. 
And is this really supposed to be Justin Timberlake?
Who is this supposed to be? Seriously. I have no clue.
To quote Donald Trump — and not in a good way — these pictures are just "sad." Watch the trailer for Britney Ever After and decide for yourself if this movie won't end up being one major disappointment: