'MLB the Show 17' PS4 Release Date: When fans can expect to see Sony's new baseball game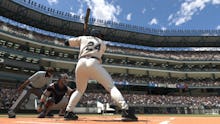 Sony San Diego Studios has provided fans with a steady diet of information on the upcoming MLB the Show 17 leading up to the launch. The game releases on March 28 and PlayStation 4. Much to the chagrin of Xbox owners, the game is a PlayStation exclusive.
MLB the Show 17 PS4 release date: How to keep up with the news
Sony also released this handy schedule that shows the publisher's planned rollout of information for various modes and features in this year's game. (We previously rounded up some of the most important events in that calendar here.)
Following the Twitch streams, YouTube video releases and additional third-party analysis is the best way to stay abreast of the latest information on MLB the Show 17.
Twitter is another source of information. If you don't already, follow the official MLB the Show Twitter account and its community manager and designer, Ramone Russell. And, of course, stay tuned to Mic for our own brand of detailed analysis.
More sports gaming news and updates
Are you a sports gamer? Check out more content from Mic, including news on EA Sports' 2017 plans for titles like NBA Live 18 and EA Sports UFC 3. There's also details on RBI Baseball 17 and the latest patch notes on WWE 2K17's 1.06 update.