While Washington was tied up in the Flynn scandal, here are 10 news stories you might have missed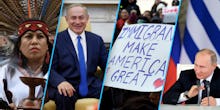 The week of Feb. 12 had barely begun when, on Monday night, Michael Flynn — President Donald Trump's national security adviser — submitted his resignation amid reports that he had discussed sanctions with Russia prior to Trump's inauguration.
The scandal whipped up a media frenzy, prompting Trump to schedule an impromptu press conference — which incited its own separate media frenzy.
Needless to say, in all the chaos the Trump administration manages to drum up week in and week out, important stories will invariably get lost in the shuffle. Below are the 10 big ones you might have missed this week.
1. Russia went rogue and launched a missile.
While Flynn geared up to submit his resignation on Tuesday over improper communications with Russia, Russia was gearing up to covertly deploy a cruise missile that directly violated a longstanding arms treaty with the United States that had been in place since the end of the Cold War.
The missile launch was likely a nasty surprise for the embattled Trump White House. With the administration already under increased scrutiny over its relationship with Russia thanks to the FBI's investigation of Flynn, the unexpected deployment added fuel to the fire. But Trump, a vocal admirer of Russian President Vladimir Putin, stayed mum on the missile launch, turning his ire toward the media instead for its reporting on leaked intelligence.
2. And now they've planted a spy ship near the U.S. coast.
Russian spy ship SSV-175 Viktor Leonov was spotted "loitering" along the East Coast throughout the week. On Friday, officials told Fox News the spy ship was off the coast of Virginia, near the U.S.' — and the world's — largest naval base. 
But U.S. Military and intelligence officials said there is no need for concern given the outdated spy ship's limited capabilities: It can only listen in on radio communications, for which Russia was mocked. 
"I hope they are having fun listening in on Classic 101," a New England district Coast Guard told NBC.
3. The Oroville Dam almost flooded California.
The week also saw Northern California rushing to brace itself for a potential deluge after the Oroville Dam — the tallest dam in North America — was discovered to have major structural deficiencies amid a period of heavy rainfall.
Erosion damage to the dam's spillway and emergency spillway forced officials to race to skim about 50 feet of water out of the Oroville Lake reservoir to prevent a "30-foot wall of water" from being unleashed onto downstream Butte, Sutter and Yuba counties.
The mandatory evacuation order that followed forced at least 188,000 people from their homes, CNN reported. Although officials have since lifted the flood warning, California Gov. Jerry Brown said that the narrowly averted disaster was a "wake-up call" on infrastructure spending in America.
"The drought reminded us we need to use water more wisely. Oroville reminds us that we need to upgrade our infrastructure and our management to move water more wisely," he said.
4. Trump repealed an Obama-era coal dumping restriction.
On Thursday, Trump quietly signed an executive order to repeal a regulation aimed at preventing coal miners from dumping waste into bodies of water.
Barack Obama signed the Stream Protection Rule in late 2016 as part of a last-ditch attempt to establish certain environmental protections for the next administration.
Demand for coal has been in decline in the U.S. for decades, the New York Times reported, but that fact hasn't stopped Trump from making the industry's revival a key initiative for his first 100 days in office.
Easing regulations, which Republicans view as a threat to jobs, is ostensibly a major part of that plan. But environmental activists and Senate Democrats argue that dumping the Stream Protection Rule won't save any jobs, and only stands to harm the environment.
"If you want to help miners, then come address their health and safety and their pension program," Sen. Maria Cantwell (D-Wash.) said, according to the Hill.
5. The Standing Rock Sioux Tribe challenged the DAPL easement... and lost.
After protesters' historic December victory in the battle over the Dakota Access pipeline was crushed in January when Trump signed an executive order approving its construction, members of the Standing Rock Sioux Tribe have quietly mounted a new offense in court.
But on Monday, a federal judge denied a request the tribe had filed to halt construction on the grounds that the project would prevent them from practicing religious ceremonies.
The decision exhausted one of the Sioux's last legal options to stop the pipeline from being completed. The Native American tribes also have a hearing scheduled for Feb. 27 regarding an injunction they requested on an easement the U.S. Army Corps of Engineers granted to Energy Transfer Partners, the company responsible for building the final leg of the pipeline.
6. Deportation chaos ensued.
Trump's crackdown on undocumented immigrants lurched into high gear this week, with CNN reporting that at least 680 undocumented immigrants had been detained by Immigrations and Customs Enforcement officers as of Monday.
The arrests, which White House officials claimed primarily targeted repeat immigration offenders and criminals, sent fear rippling through the nation's communities and called into question which protections would still be seen as legitimate under Trump's administration.
In Seattle, 23-year-old Daniel Ramirez Medina was arrested after ICE agents showed up to detain his father, despite having been granted deferred action and employment authorization under Obama's Deferred Action for Childhood Arrivals, or DACA, program in 2014 and again in 2016.
And in El Paso County, Texas, a woman was seized in the same courtroom where she had just been granted a protective order against an allegedly abusive partner.
El Paso County Attorney Jo Anne Bernal told the El Paso Times that it is common for abusers to use the threat of reporting a partner's undocumented status as a means of control, and added that the woman's arrest should not have taken place at a moment when she was so vulnerable.
"There's no place for that — especially in family court," Bernal said.
7. North Korea successfully launched a ballistic missile.
On Saturday night, North Korea tested the Pukguksong-2, an intermediate-range ballistic missile, that made it slightly over 300 miles into the Sea of Japan. The act was in clear violation of a number of United Nations resolutions, as Pukguksong-2 is reportedly a nuclear-capable missile.
Trump hasn't had much to say on the matter, other than he supports Japan's strong opposition to the missile test. Perhaps fortuitously for the president, when the news broke, he was dining with Prime Minister Shinzo Abe of Japan — a country geographically threatened by potential North Korean aggressions. Trump, who has shown a concerning lack of strategy when it comes to North Korea, simply seconded Abe's statement.
"North Korea's most recent missile launch is absolutely intolerable," Abe said in their joint statement Saturday night. "North Korea must fully comply with the relevant U.N. Security Council resolutions."
"I just want everybody to understand and fully know that the United States of America stands behind Japan, its great ally, 100%," Trump responded.
8. #ADayWithoutImmigrants protests swept the country.
Challenging Trump's anti-immigrant rhetoric and an immigration executive order so extreme it was ultimately suspended by a federal court, the A Day Without Immigrants movement swept the country Thursday.
The action was commanded by businesses, which shut down for the day to demonstrate how crucial immigrants' contributions to the workforce are to the economy — and to give Americans a taste of life without them.
Restaurants and the service industry, which especially rely on immigrant labor, were especially vocal participants. 
9. Trump changed his mind on One China Policy at a time that seemed all too... convenient.
Trump won a decade-long legal trademark battle in China, just days after he reversed his position on the One China Policy, which regards Taiwan as part of the country. 
"I don't know why we have to be bound by a One China Policy," Trump said on Fox News Dec. 11. This was a controversial statement at odds with four decades of the U.S.' established support, and China has been clear it would be unwilling to work with the U.S. without it.
On Feb. 9, during a call with Chinese President Xi Jinping, Trump did an about-face on the matter, saying he supported the policy.
And on Feb. 14, the Chinese government officially approved Trump's longstanding trademark request to use his name in China.
ThinkProgress editor Judd Legum laid out the chronology of the saga in a tweet thread on Wednesday:
10. Trump said he would support either a two- or one-state solution in Israel.
During a joint press conference with Israeli Prime Minister Benjamin Netanyahu Wednesday, Trump said he was open to a one-state solution regarding the perennial Israel-Palestine struggle over the territory. 
In doing so, the president broke away with the American government's decades-long support of a two-state solution. 
"I'm happy with the one they like the best," Trump said of Israel and Palestine during the conference.
America's support of a one-state solution could be devastating to Palestinians, as Israel, who dominates the region, would likely be in control of the terms.
Trump has been a staunch supporter of Israel's, even supporting its controversial wall along Palestinian territory.