"Why Liberals Are Wrong About Trump" essay is going viral for the sweetest, most satisfying reason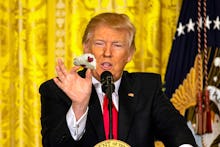 On Friday, an essay titled "Why Liberals Are Wrong About Trump" went viral on Twitter. 
Written by Glenn Rockowitz, a former Saturday Night Live writer, the essay calls Trump "a fucking sociopath" in the second sentence and then goes on to provide readers with a scone recipe Rockowitz found on Chowhound. 
Trolling the internet with a scone recipe feels appropriate — a stick of butter, cream and sugar could help momentarily quell anxieties liberals may have. The need for comfort food is real right now, as Mic previously reported. 
People on Twitter were eating up Rockowitz's sense of humor. 
All in favor of putting a delicious recipe at the end of every piece of fake news, please raise your hand.