This Week in Reproductive Rights: Melinda Gates, calls for "testicular fortitude" and more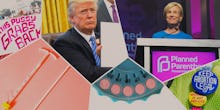 As the GOP-led fight against reproductive rights wears on, House Republicans have resurrected a little-known measure to make defunding Planned Parenthood that much easier. 
According to Vox, House legislators used the little-known 1996 Congressional Review Act to repeal former President Barack Obama's last-minute effort to prevent discrimination against family planning providers like Planned Parenthood with a 230-188 vote on Thursday. 
GOP Congress members used the same strategy earlier this month to roll back Obama-era legislation prohibiting mining companies from dumping coal into streams. The 1996 act allows Congress to vote against legislation enforced by federal agencies with a simple majority vote and the approval of the president — and it could prove to be Republicans' most efficient tool in undoing Obama's legacy and pushing forward President Donald Trump's agenda. 
As Vox pointed out, this latest move against family panning facilities is about much more than Planned Parenthood: The House's vote to repeal Obama's protections will ultimately spark a "domino effect" that would have a larger effect on how low-income women especially receive their health care.
If reproductive rights advocates are to make any gains under this administration, it looks like they're going to have to get just as creative as the politicians working against them.
Here's what else you might have missed this week:
• On Wednesday, businesswoman and noted philanthropist Melinda Gates published the Gates Foundation's annual letter along with her husband, Bill. In the letter and an editorial that ran in Fortune in tandem, Melinda Gates highlighted the importance of contraceptives as "one of the greatest antipoverty innovations in history. ... My family, my career, my life as I know it are all the direct result of contraceptives," Gates wrote. "And now, I realize how lucky that makes me." Her Family Planning 2020 initiative aims to bring birth control to an additional 120 million women within the next three years.  
• On Thursday, Florida's Supreme Court struck down an anti-abortion law requiring women to attend two doctor's appointments and wait 24 hours before receiving an abortion. The ruling deemed the law unconstitutional, though 26 other states have similar laws requiring women to endure a waiting period, some with waits as long as 72 hours. 
• On Tuesday, NBC News 9 in Colorado reported that the state will now allow pharmacists to prescribe oral contraceptives, thanks to a new statewide initiative that will take effect in March. Colorado is the third state in the nation to expand birth control access this way.
• We got a peek at the thought process behind that Oklahoma bill requiring pregnant women to secure the father's written consent in order to get abortions. "I understand that they [women] feel like that is their body," Rep. Justin Humphrey, the man who devised that unconstitutional plan, told the Intercept. "I'm like, 'Hey, your body is your body and be responsible with it.' But after you're irresponsible, then don't claim, 'Well, I can just go and do this with another body,' when you're the host and you invited that in." 
• On Thursday, the Arkansas Senate approved a "born alive infant protection" bill that requires doctors to provide medical care to infants in the case of a botched abortion. 92% of abortions take place within 13 weeks, which means there's no way a fetus could be born "alive." If a late-term abortion were to go awry and result in a live birth, as Rewire put it, "for OB/GYNs, the boundaries are clear. A baby is a baby, and a fetus is a fetus."
• An El Salvador court has pardoned a woman who was jailed for 30 years for having a miscarriage. Sonia Tábora went into premature labor in a coffee plantation when she was 20 years old; when her family sought medical attention, doctors called the police on Tábora, alleging she had tried to abort the pregnancy herself. She was released from jail in 2012, but wasn't officially pardoned until this week. 
• This week, Amy Hedtke, a member of a group called "Liberty and Justice for All," won the unofficial award for worst catchphrase ever when she called on her legislators to find the "testicular fortitude" to file a bill that would place a total ban on abortion in Texas. Don't worry — in context, it's worse. Hedtke said, "If any of y'all want to reach deep down into your souls and pull out the testicular fortitude to excuse yourselves immediately to go file a Senate companion bill to HB 948 ... I would be absolutely relieved to find out we still have some serious heart in the Senate."
• In other Texas news, on Wednesday, a Republican senator broke a glass tabletop in his effort to silence an intern with NARAL Pro-Choice Texas during hearings for three anti-abortion bills — no, this is not a metaphor. According to Cosmopolitan, Maggie Hennessy's plea that legislators "stop playing with women's health care as if it's your own political puppet" lasted just a few seconds too long, prompting Sen. Charles Schwertner to pound his gavel on the glass surface in front of him — so aggressively that it shattered. Weirdly, he didn't have the same reaction when anti-abortion lobbyists exceeded their time limit. 
• And as a bonus, check out this epic eye roll British Labor member of parliament Trish Doyle dished out on Wednesday when her male colleague interrupted her speech on the importance of women's reproductive rights. It is the only good thing.