Who plays Justin Timberlake in the Britney Spears Lifetime movie?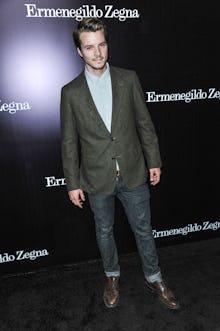 With Lifetime scheduled to premiere Britney Ever After on Saturday, '90s boy band fans have a pressing question: Who's playing Justin Timberlake? Surely, you can't have a Britney Spears biopic without NSYNC. And what's NSYNC without J.T.? For many '90s kids, Spears and Timberlake were the teen celebrity couple. We can't help but be emotionally invested in this casting decision. So who has the role of NSYNC's golden boy?
The answer is Nathan Keyes.
Here's Keyes as Timberlake:
It's OK if you're disappointed or rolling over with laughter; you're not the only one. IndieWire says the Timberlake character is "unrecognizable" and Twitter users have their own responses:
The man beneath the frosted curls
Apparently, Keyes, 31, wasn't even told he was auditioning for the part of Timberlake. But he figured it out just in time. 
"I did a little strategic research and they had [already] announced that Natasha [Bassett] was playing Britney in a Lifetime movie," he told Cosmopolitan in a recent interview. "So I had an inkling. I remember unabashedly jamming out to NSYNC all the way to the audition."
Keyes has some real-life boy band experience, too.
"I didn't have to sing and dance in my audition — but lucky for them, I did know how to do both," he revealed during the Cosmo interview. "When I was younger, in the early 2000s, I was in a boy band. Well, actually, it was a boy-girl band, As-1. So I feel like I've been preparing to play Justin Timberlake since I was a wee lad."
Keyes also has appeared in Dr. Del, another TV movie, as well as JL Family Ranch, Anatomy of the Tide, an episode of Glee, and other projects. But playing Timberlake in Britney Ever After could be his most memorable role yet.
Mic has ongoing coverage of Britney Spears. Please follow our main Britney Spears hub here.