Who is Natasha Bassett? 5 things to know about the 'Britney Ever After' Lifetime star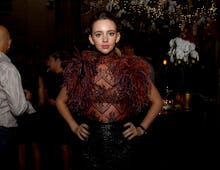 Any time an actor or actress gets in front of the camera there is some pressure. They have to pour out their heart and soul for everyone to see, while always risking the possibility of rejection. There is a different kind of pressure, though, when you have to play a real-life person. There is less room for interpretation, and certainly a greater chance to get it wrong. 
On Saturday, Feb. 18, Britney Spears fans will be able to judge for themselves whether Natasha Bassett captured the illustrious pop star's signature attributes. For Bassett, Britney Ever After is probably her biggest role yet. So, before you watch the Lifetime movie, here are a few things to know about its star. 
Bassett was born in Australia 
When you watch Britney Ever After and hear Natasha Bassett's southern accent, you may forget that she was actually born in Australia. You can hear her natural Australian accent In past interviews, which makes her performance as Britney all the more impressive. 
Romeo and Juliet
According to IMDb, she auditioned for her first role at the age of 14, landing the lead in the Australian Theatre for Young People's production of Romeo and Juliet. Regarding the role, Bassett recently told People what it was like waiting to hear the cast list after her first audition: 
I was sitting there praying, 'Please! I just want to be in the play! I'll be a tree! I'll be a man! I don't care. I just want to be in the play.' They read everyone's name but mine and I thought, 'Yikes! This is humiliating. I haven't been cast. Should I just walk out now?' I was really upset. But then they finally said my name and "Juliet!"
Bassett loves to bake.
Bassett is a woman of many talents; in addition to her creative endeavors in film, she loves baking. When asked by Vogue Australia what she likes to do to relax, Bassett responded: "I love to bake. When I was waiting to hear about whether I got the Hail, Caesar! role, I baked everyday waiting to find out, just to get my mind off it!"
Bassett also writes and directs.
Speaking of other creative endeavors, Bassett also has credits as both a writer and director. According to IMDb, she wrote and directed a short film, titled Kite, which was featured in several international festivals. This came after she received a scholarship from the ArtStart Screenwriters Program. 
In her interview with Vogue Australia, Bassett also expressed an interest in writing novels, stating that "whenever I'm not acting, I'm working hard on finishing my noir thriller novel!"
She had to learn to dance.
According to People, Bassett is not a natural dancer. In fact, she told the magazine that one aspect of the film that made her nervous was that she'd "never really danced before." Fortunately, though, she found a surefire way to get rid of the nerves. 
In an interview with ETOnline, Bassett discussed the easy way she calmed herself down in any situation: "Just saying 'It's Britney, bitch' over and over in my head," the actress explained. 
Britney Ever After premieres Saturday, Feb. 18 at 8 p.m. Eastern on Lifetime. 
Mic has ongoing coverage of Britney Spears. Please follow our main Britney Spears hub here.