'The Walking Dead': How to watch season 7, episode 10 online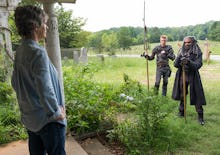 As if Rick and the rest of Alexandria didn't have enough on their plate with the Saviors, the midseason premiere of The Walking Dead's seventh season introduced a new group that ambushed them before the end credits. While we have some theories as to who the new community could be, we won't know for sure until Sunday. 
The 10th episode of season seven, "New Best Friends," should identify this new community and if they will be friend or foe (the episode's title could always be misleading). Here is the synopsis for the new episode, per AMC:
On the search for a missing Alexandrian, Rick and his group encounter a mysterious collective, its inhabitants unlike any they have come across.
But Walking Dead fans that don't have access to a TV come Sunday might be wondering how can you watch the new episode online.
It's a bit tricky for fans who don't currently have a cable subscription. While Hulu and AMC have a deal that allows next-day streaming on the site, it only includes shows that the network premieres after the deal was set in place. In other words, The Walking Dead isn't among them. The quickest way for non-cable users to watch the new episode is purchasing the individual episodes on iTunes, Amazon or Google Play the day after it airs. 
For those with a cable subscription, things are easier. AMC will have "New Best Friends" available to stream on their website on Monday. All you need to do is login with your cable provider. 
Regardless, it's best to watch the new episode ASAP, and find out whether this mysterious new community had anything to do with Father Gabriel's disappearance. A closer look at the premiere revealed Gabriel had a second person in the car when he made his escape, so it's entirely possible he's aiding that person — or, alternatively, is stuck as an unwilling accomplice. 
The 10th episode of The Walking Dead season seven premieres Sunday at 9 p.m. Eastern on AMC. Check out a sneak peek from the new episode below: 
Mic has ongoing coverage of The Walking Dead. You can follow our main Walking Dead hub here.