10 books and authors loved by US presidents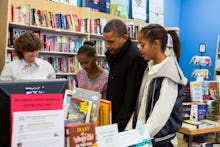 President Donald Trump is famously not much of a reader. 
In response to a question from Axios about what he was currently reading, Trump said, "I like a lot of books. I like reading books. I don't have the time to read very much now in terms of the books, but I like reading them."
A number of the 44 presidents who came before Trump talked publicly about their favorite written works. Here are 10 of their favorites to check out ahead of Presidents Day, which is Feb. 20.
Song of Solomon by Toni Morrison
Barack Obama has been called the "reader in chief" because of his notable passion for literature. Song of Solomon, Toni Morrison's coming-of-age novel about an African-American boy in search of his identity, has frequently been cited as a favorite of Obama's. He awarded Morrison with the Presidential Medal of Freedom in 2012.
Meditations by Marcus Aureilus
Bill Clinton — known as a voracious reader — is said to have revisited Meditations every year or two, according to a 1992 profile in the New York Times. The book, a collection of personal writings by the Roman emperor Marcus Aureilus, is one of several books listed among the favorites of the 43rd president. Other titles include One Hundred Years of Solitude by Gabriel Garcia Marquez, Invisible Man by Ralph Ellison and I Know Why the Caged Bird Sings by Maya Angelou. 
War and Peace by Leo Tolstoy
Tolstoy, and particularly his epic about Russian society during the Napoleanic era, has been cited as a favorite of both Richard Nixon and George H.W. Bush. The latter called it an "inspiring, lengthy treatise" that "taught me a lot about life."
The Hunt for Red October by Tom Clancy
President Ronald Reagan described Tom Clancy's Soviet-era spy thriller The Hunt for Red October as "unputdownable," catapulting the former insurance agent to pop lit fame. Reagan also reportedly read Clancy's Red Storm Rising before a key Cold War summit in 1986.
Let Us Now Praise Famous Men by James Agee
James Agee's 1941 classic about the day-to-day lives of Southern sharecroppers — with photographs by Walker Evans — was a favorite of Jimmy Carter. 
From Russia With Love by Ian Fleming
John F. Kennedy loved Ian Fleming's 1957 James Bond book, From Russia With Love. It makes sense: Both JFK and 007 were suave icons of the 1960s. 
A Connecticut Yankee in King Arthur's Court by Mark Twain
Dwight D. Eisenhower did not appear to have a very extensive bookshelf. But Mark Twain's 1889 satire about an American transported to 6th century England was one of Ike's favorites, according to his presidential library. 
The works of Rudyard Kipling
Rudyard Kipling was one of the favorite authors of Franklin Delano Roosevelt. Kipling — who authored the poem, "The White Man's Burden" — promoted imperialism in much of his work. 
Robinson Crusoe by Daniel Defoe
Robinson Crusoe was the favorite book of James Garfield. According to a biographer, "The impression made by that book upon his mind was never effaced."
Macbeth by William Shakespeare
Macbeth, Shakespeare's tragedy about political ambition, was Lincoln's favorite work of literature, once writing that "nothing equals" the classic play about the title character's violent thirst for power.