'Elder Scrolls 6' Valenwood Location Rumors: Where will the new game be set?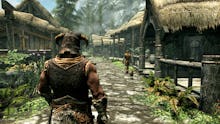 The Elder Scrolls V: Skyrim was enormously popular, so it only makes sense that people are wondering when we'll get to return to Bethesda's fantasy universe. Unfortunately, it seems like it's going to be quite a while.
While The Elder Scrolls 6 isn't a real game for all intents and purposes, it's still fun to think about what it might be when it comes out... someday. On that note, we're here to address some of the info floating around regarding Valenwood, a rumored location for the new game. Let's dive in.
The Elder Scrolls 6 Valenwood Location: Rumors
One of the rumors that's been around for a while is that the next Elder Scrolls game will be set in Valenwood: a heavily forested, elven land. This appears to be based on a YouTube video analyzing a seemingly flimsy Bethesda "leak" from last year.
Whether or not that leak is legitimate, Valenwood is an interesting possibility to consider. One has to wonder if the current consoles are even powerful enough to render a huge open world full of highly detailed, lush forestry. Bethesda's open world RPGs usually ask a ton of the consoles you play them on, so it'd be an impressive achievement if they pulled it off. It would also be a total 180 change from the snowy peaks of Skyrim.
Each of the last three single-player Elder Scrolls games has taken place in a different segment of the fictional continent of Tamriel. So one only needs to throw a dart at a map of Tamriel to find a possible setting for Elder Scrolls 6. The game could take us to Elsweyr, the home of the Khajiit cat people, or Black Marsh, the wetlands where the reptilian Argonians hail from. 
Heck, The Elder Scrolls III: Morrowind left out a huge section of Morrowind itself. Perhaps we could return to Morrowind in the next game. The only sure bet is it will be quite a while before we know the setting for the next Elder Scrolls game.
More gaming news and updates
For more gaming news, check out the latest from Mic. Here's a collection of cute Overwatch-inspired Valentine's Day cards, 15 photos that compare the Nintendo Switch to the Wii U and other gadgets, a beginner's guide to For Honor and a deep dive into the new trend of Nazi-punching video games.