Sun Stone 'Pokémon Go': How to get the evolutionary stone in Gen 2 and evolve a Sunkern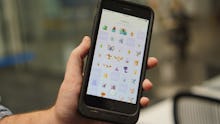 The Pokémon Go Gen 2 update has, in some ways, changed the rules of the game. Catching Pokémon and conquering gyms occurs pretty much like before, but certain pocket monsters require a special evolution item before they can become stronger.
While you'll still need to stock up on candies, obtaining Pokémon Go gen 2 special items for evolving, like the Sun Stone, will help you in completing your PokéDex. But how exactly do you get the Sun Stone?
Sun Stone Pokémon Go: How to get the evolutionary stone
The Sun Stone in Pokémon Go Gen 2 can be obtained from a PokéStop. Unfortunately, whether or not a PokéStop actually yields a Sun Stone is totally random. Like the other evolutionary items in Pokémon Go, you'll need to swipe on every PokéStop you encounter to better your chances of finding a Sun Stone.
The Sun Stone can be used to evolve two Pokémon in the latest update of Pokémon Go. Sunkern, with 50 of its candies, can make use of the Sun Stone to evolve into Sunflora. 
The other is Gloom. By presenting it with 100 Oddish candies and a Sun Stone, Gloom is able to become Bellossom. 
Make sure to check the full list of evolutionary items you can obtain in Pokémon Go. And check back soon for even more Gen 2 tips, tricks and guides.
More Pokémon Go updates, tips and tricks
If you're just booting up your Pokémon Go account to try out Gen 2, check out Mic's guides on how to get stardust, how to determine how long it will take you to reach level 40, the kind of Pokémon you get from 10-kilometer eggs, how to create new PokéStops, how to maximize your chances of catching Pokémon and how PokéStops distribute Pokémon eggs. Also check out how to catch Gen 2 baby Pokémon, our analysis of post-balance update Chansey and Rhydon and everything you need to know about finding the long-awaited Pokémon Ditto.