Meet the millennial mayor from the Rust Belt trying to save the Democrats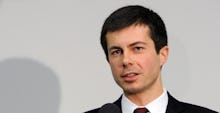 Pete Buttigieg has a vision for how Democrats can win back white working class voters living in the Rust Belt.
"Step one is to show up," Buttigieg told Mic in an interview. "There was a sense that Donald Trump was talking to rural America [during the 2016 presidential election]. Even though it was all bullshit, you get credit for showing up and talking. Even in the counties we're never going to win, we've got to show up."
The 35-year-old South Bend, Indiana, mayor is running to become the next chair of the Democratic National Committee, the organizing body of the Democratic Party. The race, seen by many political observers as a bellwether for the future of the party, has turned into a sort of proxy war between the base's Bernie Sanders and Hillary Clinton camps.
Buttigieg rejects that dichotomy altogether, presenting himself as someone who can transcend traditional Democratic divisions and bring new voters into the fold.
"We have to make sure we're putting forward a message that inspires our traditional base and biggest donors, as well as people who have never thought about [getting involved in politics] before," he said.
Buttigieg is very much the underdog in a crowded field that includes a whopping 11 candidates. While he has received the endorsements of several prominent Democrats, including 2016 presidential candidate and Maryland Gov. Martin O'Malley, Buttigieg entered the DNC race late and is far from a household name.
Minnesota Rep. Keith Ellison, who is backed by Sanders and Elizabeth Warren, and former Labor Secretary Tom Perez, who was endorsed by former Vice President Joe Biden and former Attorney General Eric Holder, are rumored to be the leading contenders for the post. There are 447 DNC members who will to cast their vote in Atlanta later this month.
"Authenticity is important. The younger you are, the more you have a sophisticated detector for when you're being pandered to."— Pete Buttigieg
Buttigieg does have one quality, however, which he feels makes him a unique asset to the Democratic Party: He's a millennial who knows how to speak to young people. Indeed, 55% of millennials — now the largest voting bloc in the U.S. with over 75 million people — voted for Hillary Clinton in 2016, making this a core demographic for Democrats.
"Authenticity is important," Buttigieg told Mic. "The younger you are, the more you have a sophisticated detector for when you're being pandered to. We also need to not just talk to millennials about 'young people' stuff. Millennials care about student debt, but they also care about [issues like] health care and the war in Afghanistan."
Even former President Barack Obama told the New Yorker after the election that Buttigieg is one of several lesser-known, but up-and-coming Democratic politicians to watch, along with California Senator Kamala Harris, Colorado Senator Michael Bennet and Virginia Senator and former vice-presidential candidate Tim Kaine.
Ellison has strong youth support, in part as a result of the endorsement of Sanders, who won more votes among those under age 30 in the 2016 primaries than Clinton and Trump combined. However, Buttigieg feels he is uniquely equipped to bring new young voters into the fold, and particularly those who didn't vote in 2016 and who live outside of traditional Democratic strongholds like New York City and San Francisco.
"Rural millennials are smart people, but they are in different conversations," Buttigieg said. "It's one thing to say we're here to stand up for LGBTQ rights. It's another to say everyone ought to be able to choose who they want to marry. It's not about dumbing down our rhetoric. It's about anchoring it in people's everyday lives. We've got to get back to that way of explaining things."
On paper, Buttigieg is the kind of candidate who can accomplish exactly that. He attended Harvard and Oxford, where he was a Rhodes Scholar. He is a veteran of the war in Afghanistan, where he served in the Navy Reserve. In 2011, he became the youngest mayor of a U.S. city with over 100,000 residents when he was elected in his hometown of South Bend. The Washington Post once called him "the most interesting mayor you've never heard of."
He's also gay. Buttigieg came out in a June 2015 op-ed for the South Bend Tribune during his mayoral re-election campaign. He went on to win a second term by a landslide, making him the the first openly gay executive in Indiana, a state that voted solidly red in 2016.
Buttigieg feels this diverse background gives him exactly the kind of experience Democrats need in order to rebuild after a bruising election defeat which has left their party searching for answers.
"I'm the only candidate positioned to deliver on the things we say we want to do," Buttigieg said. "If we're all saying we've got to spend more time in red and purple states, I'm from a purple state. If we want to transcend factional struggle, put in someone who's not backed by any particular faction. If we want to say we understand grassroots organizing, put in the one candidate who was actually at the Women's March."
Talk to Buttigieg, and you get the overwhelming sense he's determined to help progressives resist the Trump administration and Republicans for decades to come, no matter what his fate later this month.
"We can't treat the presidency like it's the only race that matters," Buttigieg said. "The other side has been very clever about building majorities in state houses, school boards, and they've been at it for decades. It's time for Democrats to think about a 50-year strategy — how we're going to build a coalition that will be more important than any individual election cycle."