'Hearthstone' Year of the Mammoth: New update drastically changes expansion structure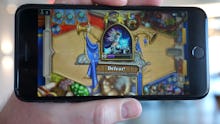 Blizzard just announced big changes to the way it will roll out expansions for Hearthstone in 2017, which it's calling "Year of the Mammoth." Instead of alternating between two different types of add-on content — Expansions, which introduce new cards, and Adventures, which introduce new storytelling missions — they'll now be combined into one expansion that incorporates elements of both.
Hearthstone's Year of the Mammoth will also introduce a brand-new Rogue character, Maiev Shadowsong. Read on for everything you need to know.
Hearthstone Year of the Mammoth: 3 new expansions on the way in 2017
Blizzard's goal with this new model for its expansions is to make the new cards it introduces more meaningful to its players in terms of their place within the Hearthstone lore.
"At their core, Adventures paint colorful and thematic stories about the Hearthstone universe," Blizzard said. "Imagine being able to learn about the history and lore behind each of our sets inside the game in a similar way! Defining who the Jade Lotus are through a series of battles between the Mean Streets of Gadgetzan families would have been a great way to supplement the overall Gadgetzan story arc."
Under this new model, Blizzard aims to release three expansion packs per year.
"For the Year of the Mammoth, our release cycle will include a 130 card expansion at the start of the year, a 130 card expansion in the middle of the year, and another 130 card expansion at the end of the year," Blizzard said.
According to the blog post, "The second expansion of 2017 will be [Blizzard's] first step into this new design." So the first expansion of 2017 will likely stick to the old model.
Hearthstone Year of the Mammoth: New Rogue hero, Maiev, coming soon
Once the first expansion in Year of the Mammoth launches, Hearthstone players will be able to earn a new Night Elf character named Maiev Shadowsong. All you'll have to do is win 10 games in Standard Ranked or Casual mode once the expansion launches, and you'll unlock her automatically.
If you're a die-hard Hearthstone fan, there's additional detail in Blizzard's latest blog post about its plans for the Year of the Mammoth, including new login rewards Blizzard will roll out before the first expansion of 2017. Read the full blog post here.
More gaming news and updates
For more gaming news, check out the latest from Mic. Here's a collection of cute Overwatch-inspired Valentine's Day cards, 15 photos that compare the Nintendo Switch to the Wii U and other gadgets, a beginner's guide to For Honor and a deep dive into the new trend of Nazi-punching video games.