3 hit Britney Spears songs that were almost sung by other artists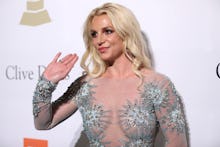 Britney Spears is undeniably one of the biggest pop stars of our time. In 2016, Billboard bestowed upon her the Millennium Award, recognizing the impact of her career on the music industry. From her early days performing on Disney's The Mickey Mouse Club to becoming a MTV staple and reaching international stardom, the singer has been a spotlight magnet for years. 
When the "... Baby One More Time" music video debuted, Spears had the winning combination of great choreography paired with catchy lyrics that can still be easily recalled years later. She's had six no. 1 songs on the Billboard Hot 100, including "Oops! … I Did It Again," "Toxic" and "Womanizer" — but some of these songs almost never made it to Spears' catalogue.
Here are the stories behind three hit songs by Britney Spears that were almost sung by other artists.
"... Baby One More Time" 
Girl group TLC was already famous when they passed on what became Spears' breakout hit. They revealed why they chose not to go with it in a 2013 MTV interview.
"Every song isn't good for each artist, and when you're a real artist you know what you believe in and what you really want to sing," T-Boz said. "So, I'm clear that it was a hit, but I'm also clear that it wasn't for TLC."
"Toxic"
"Toxic" was another no. 1 hit originally meant for Australian singer Kylie Minogue. She revealed she turned down the song during an appearance on Bravo's Watch What Happens Live with Andy Cohen, according to Idolator.com. 
"I'm A Slave 4 U"
The legendary Janet Jackson was first presented with "I'm A Slave 4 U," but passed on the song. 
"I just think she was in a different space at the time and I understood that it just didn't make sense for her at the time," Pharrell Williams, the song's writer, told Howard Stern in a 2014 interview.
Williams said Justin Timberlake, who was dating Britney Spears at the time,  introduced the two of them, leading to the collaboration and the hit song.
Mic has ongoing Britney Spears coverage. Please follow our main Britney Spears hub here.