'For Honor' Steel Glitch: Video claims to show an exploit that yields unlimited steel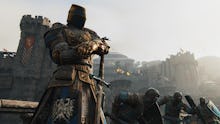 One of the less great things about For Honor is its inclusion of real money microtransactions. After all, if you've already paid $60, you shouldn't have to pay more to get ahead, right?
You can earn steel — For Honor's in-game currency that can be used to buy character outfits, experience boosters and more — through completing missions, but you can also buy it with actual money. However, at least one player has claimed to have discovered a way to get potentially unlimited steel with a bizarre trick. Here's how it works.
For Honor Steel Glitch: Unlimited steel exploit
If you don't feel like watching a seven-minute video, here's a quick synopsis. The trick requires a bit of effort on your part. First, start a duel versus an AI opponent and make sure you win. Once the victory screen begins to transition to the rewards screen, quickly disconnect from the internet. You'll get an error message because the game requires an internet connection to work.
After you get the error, reconnect to the internet and start another duel with the same settings. According to the video, if you keep doing this, you'll keep getting more and more steel each time. 
This sounds incredibly tedious and will almost certainly be patched out of the game in the near future. So it's probably best to just play the game and accrue steel legitimately.
Mic has reached out to Ubisoft for comment and will update with any response.
More For Honor tips, tricks and guides
Looking for more help with For Honor? Check out Mic's guides for how to parry, how to execute, how to throw, how to revive and what to expect from the game's single-player campaign.