Donald Trump's sexist joke shows he hasn't changed at all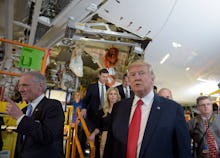 Donald Trump may be president now, but a recent crack he made at a Boeing airplane hangar on Friday proved he's still the same person who made derogatory comments about women on the campaign trail.
At a campaign-style rally in South Carolina on Friday, Trump made a sexist joke that insinuated women over the age of 30 are no longer beautiful.
"That plane, as beautiful as it looks, is 30 years old," Trump said, referring to the Air Force One jet behind him. "Can you believe it? What can look so beautiful at 30? An airplane."
Trump has a history of joking about women's ages and their level of attractiveness.
In an appearance on radio shock jock Howard Stern's show in 2002, Trump said he preferred dating young women, and would leave them once they hit a certain age.
"What is it at 35? It's called check-out time," Trump told Stern, referring to a woman's age.
Twitter took none too kindly to Trump's off-color joke.
Others pointed out that Trump's wife, Melania, is 46.
"For Trump only a machine can look beautiful at 30," MSNBC host Lawrence O'Donnell tweeted. "Mrs. Trump hear that? If she did, she surely couldn't have been surprised."