'Pokémon Go' Gen 2 Egg List: Chart reveals new 10km eggs hatching after the update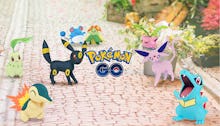 Pokémon Go Gen 2 is here, and that means new Pokémon and new eggs to hatch. It almost means reworking all our Pokémon Go egg knowledge to include the additional pocket monsters — luckily, there's already a handy chart that does just that.
Pokemon Go Gen 2 Egg List: New chart for 10km eggs and more
Pokémon Go HUB has posted the preliminary results of its community research on which Gen 2 Pokémon hatch from 2km, 5km and 10km eggs. We're not sure which of these Pokémon will matter most to gym battlers, but at least this early list gives you some idea of what to expect from eggs following the huge Gen 2 Johto update.
Pokémon Go Gen 2 Egg List: Where the data comes from and why it matters
The Pokémon GO Hub also notes that entries have only been made on its Gen 2 egg chart if a species of Pokémon has hatched from a particular variety of egg at least 10 times. So this egg chart is far from official, but it's some of the earliest data the Pokémon Go community has generated on this subject.
The most useful part of any Pokémon Go egg chart is usually the 10km egg section. In Gen 1, some of the most powerful Pokémon in the game, or the species they evolve from, hatch from 10km eggs — such as Lapras, Snorlax, Dragonite and Vaporeon.
While this new chart does give us preliminary information on 10km eggs, we have only the updated stats for each species to give us an idea as to which of these 10km egg results are the most valuable. Going by the stats, Tyranitar, Blissey, Donphan, Espeon and Heracross are all early contenders for new endgame Pokémon. Larvitar, which evolves into Pupitar and then Tyranitar, seems to be the most valuable Gen 2 Pokémon to hatch from 10km eggs going by this early data.
For now, this Gen 2 egg chart is really more useful for Pokémon collectors than hardcore gym battlers. Either way, it's still worth taking a look at the full chart for yourself.
Check out more Pokémon Go guides, tips and tricks
If you're booting up the game for the first time in a while to get ready for Gen 2, be sure to check out Mic's guides on how to get stardust, how to determine how long it will take you to reach level 40, the kind of Pokémon you get from 10-kilometer eggs, how to create new PokéStops, how to maximize your chances of catching Pokémon and how PokéStops distribute Pokémon eggs. Also check out how to catch Gen 2 baby Pokémon, our analysis of post-balance update Chansey and Rhydon and everything you need to know about finding the long-awaited Pokémon Ditto.