Will Mahershala Ali be the first Muslim actor to win an Oscar?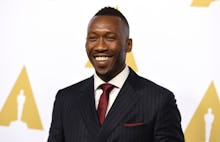 When he took the stage at the Screen Actors Guild Awards in January to accept his best male actor in a supporting role prize for Moonlight, Mahershala Ali had a choice. He could deliver a safe, warm, gracious speech that would earn him kudos in the moment but would be forgotten the next day. Or, he could speak out against Donald Trump's infamous "Muslim ban," which was in effect and not yet blocked by the courts.
Other speakers that night had delivered and would deliver speeches denouncing the ban, from Stranger Things' David Harbour to Julia Louis-Dreyfus. But Ali has a special connection to the ban: He himself is Muslim, having converted 17 years ago when visiting a mosque with his now-wife, Amatus Sami-Karim. So when the Moonlight actor chose to speak out about he and his Christian mother coming together after his conversion, it was extraordinarily powerful.
"My mother is an ordained minister, I'm a Muslim," he said in his speech. "She didn't do backflips when I called her to tell her I converted 17 years ago. But I tell you now, you put things to the side. And I'm able to see her, and she's able to see me. We love each other and the love has grown."
Ali is Ahmadi Muslim, part of a movement seen as "heretical" by other Islamic sects, according to BBC News. The key difference: Ahmadis believe Mirza Ghulam Ahmad, the founder of the movement in the 19th century, was a prophet. Muslims of other sects believe Muhammad to be the last prophet.
Still, Ali would be the first Muslim actor to win an Oscar if he wins — with the caveat that at least one previous winner practices a blend of Sufism, another branch of Islam, and other religions. That winner: Ellen Burstyn, who won in 1975 for Alice Doesn't Live Here Anymore.
In 2006, Burstyn gave an interview to a faith-based publication called Beliefnet. She explained her process of exploring Sufism, which she said started with reading:
I was reading the work of Gurdjieff. And Gurdjieff led me to the Sufis, and then I met a Sufi teacher. And then I traveled to Europe and I climbed the Alps and went up to a Sufi camp conducted by Pir Vilayat Kahn; I was initiated up there. ... And the idea that we didn't have to say, "I am a Christian" or, "I am a Buddhist" or, "I am a Muslim," but, "I am a spirit opening to the truth that lives in all of these religions," brings you into a place where you see that the differences are in the dogma, and the essence is very, very similar.
Because Burstyn doesn't necessarily call herself a Muslim, Ali will be the first winner to do so if he takes home the best supporting actor prize at Sunday's Oscars. Considering the national temperament at the moment — one that has inspired massive demonstrations and resistance in support of Muslims — Ali's win would be a timely one.
Mic has ongoing coverage of the Oscars. Please follow our main Oscars hub here.