5 hit Rihanna songs that were almost sung by other artists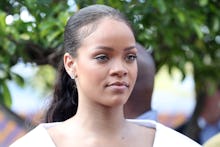 Rihanna continues to climb into pop legend territory. This week she scored her 30th top 10 hit on the Billboard Hot 100 with her song "Love on the Brain." At 29, she has more hits than years on earth. Only two artists have more: the Beatles with 34 and Madonna with 38, Billboard reported. Consistency is definitely her key to winning.
Picking these chart-topping songs is all strategy, as Rihanna is known for having writing camps dedicated to creating new music for her. But her hits don't always come about this way. Earlier in Rihanna's career, she picked up songs turned down by artists who were bigger than the singer at the time. But now RiRi stands on top and can boast about her long list of successful singles.
Here are five No. 1 Rihanna songs that were almost sung by other artists.
"Work" feat. Drake
Rihanna loved "Work" when she first heard it, but her label didn't. PartyNextDoor, who penned the dance hall hit, told the New York Times: "Her label didn't care for Caribbean music at the time." 
The song was going to be given to Alicia Keys or Drake. But Rihanna eventually got her way. "She fought for it," PartyNextDoor continued. "She said, 'This is my family's favorite song.'"
"Disturbia"
2008's electro-pop "Disturbia" was originally written for Chris Brown, but he passed the song on to Rihanna, whom he was dating at the time. 
"SOS"
Singer Christina Milian, who was Rihanna's former labelmate, is said to have passed up "SOS," which became Rihanna's first No. 1 hit song in 2006. In a sad twist of fate, Milian was later cut from Def Jam, which she said she believes was because of RiRi's success.
"It was a budget cut, I believe," she told Rap-Up in 2008. "[Def Jam] probably got rid of projects like mine to spend the money on [Rihanna]." 
"We Found Love" feat. Calvin Harris 
In 2013, Pussycat Dolls singer Nicole Scherzinger admitted that she "slept on" what became another No. 1 hit for Rihanna, according to a NME report.  
"I passed on 'We Found Love,'" she said. "I got the demo of that song and I was busy at the time. They'd sent me a fe w dance tracks and I wasn't able to get to them and I was like, 'Oh, there's so much dance and I want to take a break from it.'" 
"Umbrella"
Producer Tricky Stewart and songwriter The-Dream wrote "Umbrella" with Britney Spears in mind. But her team rejected the song because Spears already had songs she was planning to record for her 2003 project, In the Zone, according to MTV News. They tried to shop it to Mary J. Blige next. But that was a failure. Rihanna's team eventually landed the song.
"When she recorded the 'ellas,' you knew it was about to be the jump-off, and your life was about to change if you had anything to do with that record," Stewart told MTV.
And really, can we imagine anyone else singing it now? Ultimately, "Umbrella" and Rihanna were meant to be. 
Mic has ongoing coverage of the Rihanna. Please follow our main Rihanna hub here.