'Big Little Lies' Series Premiere Recap: Who killed whom — and does it even matter?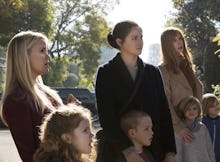 In Mic's TV club, senior arts writer Kevin O'Keeffe and arts writer Miles Surrey will watch an episode of a TV show with no regard to how familiar we are with it. The next morning, we'll dissect it in a conversation with one or two other Mic staffers. This week's show: HBO's Big Little Lies, with guest Jordyn Taylor.
Kevin O'Keeffe: I'm just gonna cut to the chase, in the spirit of Madeline Martha Mackenzie herself: I love Big Little Lies. I think it is sublime TV, maybe the most I've loved an HBO drama in years. The miniseries adaptation of Liane Moriarty's 2014 novel is easy enough to summarize: Imagine if you took the cold, cutthroat, darkly comic elements from other prestige dramas, but put them in the world of suburban moms fighting over elementary school drama. Then throw in a murder mystery and a Greek chorus of bitchy moms and dads for color. The result is gripping, shocking and pretty damn fun.
There's so much I want to talk about from this episode alone that I don't know where to start, but let's try this: How about that cast? I constantly vacillate between which performance is my favorite, but I think I'm sticking with Laura Dern as queen bee Renata Klein.
Jordyn, Miles, what did you think of this adaptation? And who stands out among the cast for you right now?
Jordyn Taylor: Liane Moriarty is one of my favorite authors, so the stakes were high for me. This first episode had to knock it out of the park. It had to do this awesome book justice. And it delivered. I loved it.
As for stand-outs: Alexander Skarsgard as abusive husband Perry Wright is obviously a heinous, evil monster. But Alexander Skarsgard as Alexander Skarsgard is very nice to watch, and I'll leave it at that. Just acting-wise, Reese Witherspoon as Madeline Mackenzie and Nicole Kidman as Celeste Wright stood out to me. It would be hard to pick a favorite.
Miles Surrey: I really enjoyed the pilot, and I can't wait to watch more. Kevin, I have a feeling that you were familiar with the novel to some extent prior to seeing it, but having gone in without any knowledge of Big Little Lies, I wasn't sure what to expect. But it's such a fun web of high-class social satire, elementary school drama and a murder mystery that it's hard not to get sucked into it.
The cast is tremendous, and for me, the trio of Dern, Witherspoon and Kidman stand out. (I could call them by their character's names, but to be honest, I am imagining Big Little Lies as events happening to these actresses.) In particular, I'm curious to see how the show tackles Kidman's arc, after it's laid out that her attractive young husband is abusive to her. If anyone hasn't won me over yet, it's Shailene Woodley as Jane. But I imagine that's partly due to the fact that they keep her character a blank slate, and compared to her campier co-stars it's a lot less engaging.
KO: I actually wasn't familiar with the novel, Miles! Which makes me really interested to hear what Jordyn has to say about the adaptation. Has anything substantially changed? I know that the book was set in Australia versus Monterey Bay, California, but that's about it.
JT: You're right — besides the setting, everything is very true to the book so far. I will say though, I love that Liane Moriarty's books are all set in Australia. They're like fun little getaways. I was disappointed the show was set in the United States; I'd been preparing myself to hear everyone try to do Aussie accents. Disappointing!
KO: Well, you can take comfort in the fact that Nicole Kidman is barely repressing hers.
KO: I kid(man)! She's marvelous in the show, too. What I love so much about her performance is how internal it is. The scene at the café where Celeste and Jane have a connection — one that neither one of them can quite put their finger on — is marvelous.
Woodley, I'm not quite as enamored with in this episode, but she's solid. I think I wish her guardedness came off a bit less dour. Miles, we're in agreement there — do you think there's anything that can help the character?
MS: I just want to know a bit more about her — but at this stage I know that's just part of the mystery. Surely we'll know more about Jane in the coming episodes, why she moved to this picturesque town and how that affects her relationship with her mother.
Also, fingers crossed we get more interactions between her character and Renata, who is so good at being a messy bitch who lives for drama.
JT: It's jarring seeing Woodley transition from coming of age/YA leading lady to playing a mother. I wonder if that's throwing us a bit. I can't help but think of Ziggy as her younger brother. Or like she's a cool babysitter.
KO: It's no surprise Renata thinks Jane is Madeline's nanny.
JT: I know how this all plays out in the end, so I'm curious to know: Who do y'all think dies?
MS: If I had to guess, I think Madeline is the character who dies. But they keep it quite ambiguous in the premiere!
KO: I know what happens, but I'm super excited to hear Miles' guess. But moreover, I'm interested in how much the actual mystery matters to y'all. Because I'm way more interested in the world of this show than I am in the whodunit (and to whom).
MS: I live for drama, so I really want to know who dies.
JT: I agree with Kevin! I love being in their world. I want to go to trivia night and for Tom the coffee man to bring me pastries by the ocean. I want to be fully subsumed into their bubble world. Take me.
Question for you guys: Kid actors are pretty bad in 99% of things. What do y'all think of these kiddos? I really like Chloe. I like how she calls her mom "woman." And Ziggy is so sweet.
MS: Good kid actors for sure, and they have great chemistry with their on-screen moms and dads.
KO: Chloe is fantastic. The twins I could take or leave.
MS: Follow-up: Of the moms, who would you most want as your mom?
JT: Bonnie. Bonnie would be really cool and sex-positive.
KO: I'd like Jane. She's flawed, but she's chill. Though I'd take Renata for that house.
MS: Madeline is oddly endearing and is my favorite, but I have to agree with Jordyn. Bonnie would be so chill and keep me in shape.
JT: If Bonnie were my mom, I wouldn't have to pay for fancy yoga classes. 
JT: How about the dads?
KO: Well, yeah, that's what I was about to say about Bonnie: I would never want Nathan.
JT: Or Perry, obviously. Which leaves Ben Wyatt (Adam Scott will never not be his Parks and Recreation character to me) and Renata's husband. I guess I'd take Ben Wyatt.
MS: Same. He would be close enough to me being my own dad.
JT: Reese Witherspoon and Ben Wyatt make no sense to me as a couple. I will say, if I had to pinpoint ANY flaw in this beautiful show, it's that they don't have much chemistry. Even though that lack of chemistry is something of a plot point, it's hard for me to imagine how these two ever came together.
KO: Oh, I totally bought that, actually. Like, he's a decent man, which is what she would've been wanting during that part of her life. But she also has no respect for him, which Scott nails. His is actually one of my favorite performances in the show, just behind the elites (Dern, Witherspoon, Kidman).
I assume from all we're saying that we'll be tuning in next week as well?
JT: Oh yes. Yes! Give me more. Now.
MS: Yep! Can't wait to find out more.
KO: This feels like a big, addictive hit to me. I think audiences are gonna be just like us: clamoring to see what's next.
Big Little Lies airs Sundays at 9 p.m. Eastern on HBO. Follow Mic's Big Little Lies coverage here.