'Pokémon Go' Unown: Gen 2 Pokémon allegedly spotted — but there's still a big mystery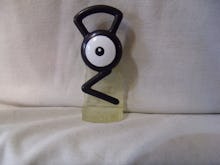 More than likely, the Pokémon Go Gen 2 update is rekindling your fondest memories of playing the Gold and Silver games. Part of that experience was collecting all 26 of the stringy, single-eyed black floaties known as Unown. Lucky for Pokémon Go players who've updated to Gen 2, the Unown are back.
Pokémon Go Gen 2 update: Where to catch Unown?
As the name suggests, many details surrounding the letter-shaped symbol Pokémon are unknown. But players across the world are chiming in with their findings.
An Unown sighting in Milwaukee comes to us from MissingNebula on Reddit. The trainer shared a ton of information on Imgur as proof, including the Pokémon Go Pokédex, an Unown in battle and even one holding down a gym spot. 
Other Unown finds include one in Singapore discovered by Edwin Wong Chee Seng, who shared it a Facebook group.
Pokémon Go Gen 2 update: What happens when you collect all 26 Unown?
While MissingNebula found an Unown O, Edwin Wong Chee Seng caught an Unown L. So what does that mean? Will we be tasked with capturing all 26 letters of the alphabet? And if so, what will that entail?
Pokémon Go does have a history of introducing region-exclusive Pokémon, so it's possible that could be the plan for Unown as well. For now, though, it's really too soon to say for sure.
What we do know is that Pokémon Go Gen 2 appears to have some sort of achievement for capturing all 26 Unown letters. MissingNebula even shared a screenshot of the medal associated with catching Unown. We aren't seeing this achievement in our own game. So if it's real it likely won't unlock until you catch your first Unown. Good luck!
More Pokémon Go Tips and Tricks
If you're just booting up your Pokémon Go account to try out Gen 2, check out Mic's guides on how to get stardust, how to determine how long it will take you to reach level 40, the kind of Pokémon you get from 10-kilometer eggs, how to create new PokéStops, how to maximize your chances of catching Pokémon and how PokéStops distribute Pokémon eggs. Also check out how to catch Gen 2 baby Pokémon, our analysis of post-balance update Chansey and Rhydon and everything you need to know about finding the long-awaited Pokémon Ditto.