Where is 'Bates Motel' filmed? 4 things you may not know about the 'Psycho' prequel set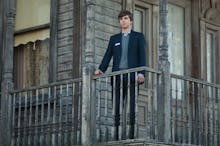 Get ready to check back into the Bates Motel. The Psycho prequel series returns to A&E Monday at 10 p.m. Eastern for its fifth and final season — and things will never be the same. Norman is unraveling and the only person in town who knows what he's capable of is behind bars. If only there was a way to leave an online review for the quaint — but deadly — White Pine Bay motel.
Fortunately the Bates Motel is a fictional place where you can't spend your next holiday vacation. But in case you're curious about the set, here are some facts about the filming location.
Where is Bates Motel filmed?
If you've ever been to Universal Studios in Hollywood then you may have seen the original Bates Motel and house that was used in Psycho. The A&E series does not film there, though. The motel and house were recreated in Vancouver, British Columbia. Star Nestor Carbonell revealed in a Periscope video that the crew was able to build it in five weeks — but it's located on a landfill. 
"So when it rains it smells just beautiful," Carbonell joked.
Is the show actually filmed on the set?
The motel set is semi-functional. Four rooms are fully designed and are filmed in. Interior scenes at the house are shot on a stage.
What about Norman and Norma's house?
The house where Norman and Norma live is only a shell. The crew was able to build it in five weeks — but without a roof. When they first began filming in 2012 they couldn't afford to put a roof on the building so they used CGI to create it in season one. After the series was picked up for a second season they were able to put the roof on in between filming of the first and second season. 
What's the difference between the movie set and the TV set?
The Bates Motel on TV and in the movie may look similar, but they have a couple differences design-wise. They both have 12 rooms, but the office is laid out differently. In the movie the front door of the office is straight on, while the TV set office has an L-shaped entrance. The movie motel set also features a few steps leading towards the rooms. The TV motel, on the other hand, has a flat walkway.
Watch Nestor Carbonell give a full tour of the Universal Studios backlot set.:
And here is a sad video of the Vancouver set being taken down once filming on season five wrapped.
Mic has ongoing coverage of Bates Motel. Please follow our main Bates Motel hub here.