How to know if quitting your job is a really bad idea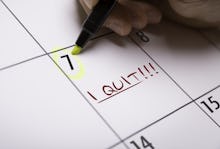 Is your boss a psychopath? Is your office full of backstabbers? Do you dream of saying #ByeFelicia and traveling like the cool kids on Instagram? 
There are plenty of good reasons to quit your job. In fact, quitting has practically become a thing lately, with the Bureau of Labor Statistics labor turnover data revealing around 3 million people voluntarily left their positions in the last month of 2016. 
But before you become one of the millions saying sayonara, you need to make sure that giving up your steady paycheck won't leave you broke AF. 
Here are four questions to ask yourself before you walk out the door.
Do you have an emergency fund?
The single most important thing to do before quitting a job is to make sure you have a financial cushion. As Mint explains, "No matter what you plan on doing outside of your day job, you need to have liquid funds available."
Start with the basics: You need cash to pay for your living expenses and put food on the table. Six months savings is the goal, especially if you're leaving your job with no immediate prospects in sight.
Unfortunately, many people without jobs don't have a big enough emergency fund and end up borrowing money to make ends meet. A study presented at the 2015 Federal Deposit Insurance Corp. Consumer Research Conference found unemployed households take on an average of $3,000 in additional consumer debt.  
Remember: Going into debt puts you at risk of financial disaster. And quitting without a solid plan could lead to make bad decisions based on desperation. 
How do you build an emergency fund? Start by cutting your expenses back as much as possible while you're still working. Then leave those extra funds in the bank — preferably in an interest-earning savings account — and get used to living on the pared down budget you'll need until your income goes back up.
What's the likelihood of finding a new job?
Before you quit, assess your future job prospects. This means everything from checking in with your professional contacts to looking at employment data for your geographic area and field of expertise.
Start with your contacts. Update your LinkedIn profile and pay attention to how many job openings sound right up your alley.
To search outside your network, check listings on job boards like Indeed and Monster. 
It also won't hurt to check Bureau of Labor Statistics for job outlooks for different positions along with unemployment rates by state and by industry.  
Remember, the longer you are out of work, the harder it can be to find a new job. No one wants to be condemned to the ranks of long-term unemployment. 
Are you in debt?
If you have student loan debt or other creditors you owe money to, quitting your job is probably not a good plan right now. 
Many millennials are delinquent on their student loan debt already. You could become one of them if you can't pay because you're unemployed. 
While you may be able to temporarily suspend or reduce student loan payments, interest keeps accruing while you are not paying. This increases the total amount you have to pay back. 
And most other creditors, like credit card and mortgage lenders, won't put your debts on hold until you can afford to pay them back. 
Before you quit, pay off the debt. You'll have one less monthly bill and won't have to worry about creditors coming after you. 
Is your retirement fund on track?
Retirement may seem a long way away, but if you don't save when you're young, it's much harder to catch up later.  
This AARP calculator tells you how much you should have saved based on your age, salary, expected pension and desired retirement age. Unfortunately, most millennials are way behind.  
This is bad... and quitting your job could make things worse. 
If you can keep setting aside money in an individual retirement account while unemployed, quitting won't leave you broke once you retire... although you will lose your employer's 401(k) matching contributions. 
You might also be okay putting additional retirement savings on hold if you are mostly on track before you quit your job. But if you're way behind, taking time off could mean you end up having to work a lot longer or live on much less. 
Whatever you do, don't even think about cashing out retirement money to live on after you quit your job. You'll be hit with taxes and penalties if you cash out your retirement account and will have to start all over in saving. 
Sign up for The Payoff — your weekly crash course on how to live your best financial life. Additionally, for all your burning money questions, check out Mic's credit, savings, career, investing and health care hubs for more information — that pays off.