Katy Perry pulls a Jessica Simpson, releasing a namesake shoe collection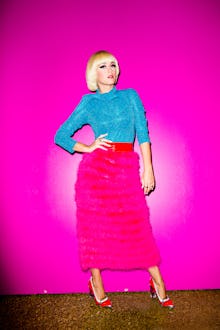 You know her for infectious hits and whipped cream bras, and now, Katy Perry hopes you'll know her for the shoes on your feet. 
With a controversial red carpet moment fresh in the public's mind, and a new single in need of promotion, the launch of an eponymous shoe line might not seem like the most obvious next step for a musician like Katy Perry. It may however, be the most perfect move for Katy Perry the brand.
While "Chained to the Rhythm," Perry's new single, gained press for its disco ball-cum-listening party release and set a Spotify record for highest first-day streaming for a single track by a female artist, it's not exactly chained to the top of the charts. As of this writing, "Rhythm" is at No. 8 on the iTunes chart, (down from No. 3 peak), and spent its first week at No. 24 on the Billboard pop chart.
Chart performance aside, Perry caused a wrinkle in her press cycle last week when she walked into a stan minefield on the Grammy's red carpet. 
While making light of her own ever-changing look, Perry made apparent references to Britney Spears' infamous 2007 trials. "The only thing left to do is shave my head, which I'm really saving for a public breakdown," she joked to Nancy O'Dell. Digging in, she made a second joke later to Ryan Seacrest along the same lines. 
Understandably, the remarks did not sit will with many. The incident also happened to come days before Feb. 16, the 10-year anniversary of Britney Spears' public breakdown at a Tarzana, California, salon, and coincidentally, the day Katy Perry's shoe line launched.
As pop music's resident chameleon in chief, Katy Perry's style has changed at a frenetic pace for most of her career. From One of the Boys' Bettie Page pinup to Teenage Dream's saccharine siren, one thing can be said about Perry's looks: She's had a lot of them. 
Though her name might not bring to mind the high-fashion bonafides of some of her pop contemporaries, Perry's knack for bright, loud dressing earned her a reputation on the red carpet. It also made her a natural muse for Moschino designer Jeremy Scott, who tapped Perry to star in Moschino's Fall 2015 ads. 
With her foot in the door, as it were, it didn't take long for Katy Perry to design a novelty footwear line of her own — at an accessible price point.
Perry's line launched on her website with 40 styles, ranging from $49 to $169, and utilizing a variety of materials and unconventional details. 
Perry's hope is the shoes can be "the exclamation mark to your outfit," as she described the line in a press release. Some of the names are references to Perry's friends in high places, like the Hillary, named after, well you know who. 
This being a Katy Perry joint, alongside the more conventional offerings come a variety of novelty shapes, like the chain-link-heeled mule, the Perry. Whether it's a "Chained to the Rhythm" promo or just a happy coincidence, it makes for a pretty cute heel.
At this point in Katy Perry's career, whether her new single finds its place at the top of the charts is beside the point. Katy Perry has amassed an impressive list of accomplishments — eight Billboard Hot 100 chart toppers, a CoverGirl collab and a Super Bowl halftime show to name a few — but jumping into the footwear game means she's ready to transition from musician to mogul. Perry is following in the footsteps of another pop belter turned billion dollar business, Jessica Simpson.
Jessica Simpson and Katy Perry both began their pop music careers in gospel, both design fashionable shoes at an accessible price point and, most importantly, both women crafted unique, outsized personas in the public eye. Launching her own eponymous line means Perry's just claimed her stake of the $30 billion U.S. footwear industry. Launching her own collection also means that Katy Perry has the cultural clout to possibly opt out of the music game and cash in on the personal brand she's built, Simpson-style.
Perry's most recent album of new music was released in 2013, an eternity in the ever-changing landscape of the music industry. The fact that she still has the relevance necessary to launch a shoe line speaks volumes about her potential for longevity in the public eye. 
With the release of her new single's music video, Perry's wasting no time gearing up for another album press cycle. If she's planning her long game though, Katy Perry would be wise to take a note from Jessica Simpson and double-down on her business aspirations. Girl Boss is a good look.