Bill Maher and Milo Yiannopoulos had an on-screen lovefest during 'Real Time'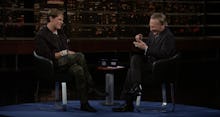 On Friday night, right-wing provocateur Milo Yiannopoulos stopped by Real Time with Bill Maher for a downright chummy talk in which the alt-right star and the television host discussed Yiannopoulos' harassment of Leslie Jones and free speech. 
Maher opened the interview claiming Yiannopoulos was "colossally wrong on a number of things."
"But if I banned everyone from my show who I thought was colossally wrong, I would be talking to myself," Maher said. Yiannopoulos, who claims the mantle of free speech as cover for hateful rhetoric, expressed appreciation for Maher's words before launching into a riff on gay people. Yiannopoulos said he doesn't hire gay people because they don't show up on time because they're too involved in drugs and sex. 
"I mean, not as bad as women, but no, I don't hire gays," Yiannopoulos said. When the audience groaned, the Breitbart senior editor said they were "very easily triggered," which prompted Maher to move onto free speech rather than press his interviewee any further.  
"All I care about is free speech and free expression," Yiannopoulos explained. "I want people to be able to be, do and say anything. These days, you're right, that's a conservative issue."
Maher, who at this point seemed to be yukking it up with an old college buddy, spoke about how they had both been "disbarred at Berkeley." Maher delivered the 2014 commencement address at Berkeley amid protests over his anti-Islamic comments. Earlier this month, a scheduled Yiannopoulos event at the school sparked protests that became violent. 
When Maher had said there was a "part of liberalism that has gone off the deep end," regarding free speech, Yiannopoulos responded by attacking Lena Dunham. 
"You're literally the only good [liberal]," Yiannopoulos replied. "Your side has gone insane. The Democrats are the party of Lena Dunham. These people are mental, hideous people. The more that America sees of Lena Dunham, the fewer votes the Democrat Party's ever going to get." 
"Let's not pick on fellow HBO stars," Maher quipped. 
When Maher turned to Yiannopoulos' brand of humor, Maher painted the provocateur as misunderstood. 
"I think a lot of people do miss your humor," Maher said. "And I'm a guy who always defends jokes, right up to the point where they pointlessly hurt people."
"No, I hurt people for a reason," Yiannopoulos replied. "For sure. No, I like to think of myself as a virtuous troll." This might have been a good time to point out that Yiannopoulos has engaged in hurtful trolling, including mocking a transgender woman who was sitting in the audience at a talk at the University of Wisconsin-Milwaukee. 
Maher almost challenged Yiannopoulos during a discussion about his racist, abusive trolling of Leslie Jones, which got him blocked on Twitter. His followers ended up harassing Jones with racist memes. 
When Maher asked Yiannopoulos for an explanation, the provocateur said that he only "wrote a bad review of a movie" and "said she looked like a dude" and that "she's barely literate." 
Maher failed to challenge his characterization of Jones. 
"Mean words on the internet don't hurt anyone," Yiannopoulos said. "You know what actually hurts people is things that happen in the real world." 
He added, "What actually hurts people is murder, violence, that kind of stuff." 
When Maher suggests that Yiannopoulos may have incited violence, like at the UC Berkeley protests, Yiannopoulos responded: "Well, they would be idiots." 
"Well, yeah, OK," Maher responds. 
As the interview came to a close, Yiannopoulos chided journalist Jeremy Scahill, who backed out his scheduled appearance on Real Time With Bill Maher this week because of Yiannopoulos. 
"If you don't show up to debate, you lose," Yiannopoulos said. 
Maher proved that he could both show up and lose, because he never really debated Yiannopoulos. Maher replied to his guest and closed out the interview-slash-teenage-slumber-party by calling out his left-leaning audience — and throwing out a little slur for good measure. 
"Stop taking the bait, liberals!" Maher said. "The fact that they all freaked out about this little, impish, British fag? You fucking schoolgirls. You schoolgirls. Right?"