Larry Wilmore tells Milo Yiannopoulos "Go fuck yourself" for his transphobia and misogyny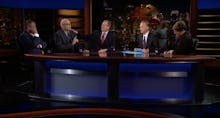 After an appearance on Real Time With Bill Maher in which host Bill Maher mostly used kid gloves to handle him, Milo Yiannopoulos got a very different treatment on the aftershow Overtime With Bill Maher. 
During his appearance on Overtime, Yiannopoulos and Maher began having a deeply transphobic conversation about transgender people, which Larry Wilmore had to shut down. 
"I think that women and girls should be protected from having men who are confused about their sexual identities in their bathrooms," Yiannopoulos said. 
Maher replied, "That's not unreasonable." Maher then asked another guest on his panel how he felt about "weirdos peeing." 
Comedian and former Nightly Show host Larry Wilmore cut in at this point and said, "I just think it's sad because the same arguments that were used against gay people, treating them like aliens who just wanted to fuck anything that moved and that's why we should avoid them at all costs, is being used..." 
At this point, Yiannopoulos attempted to interrupt Wilmore and Wilmore pushed back. Wilmore continued, and pointed out the ways that marginalized groups become invisible in society and therefore easier to attack. Wilmore condemned Yiannopoulos for trying to make broad generalizations about an entire group, like saying that transgender people are prone to sexual assault. The latter part is especially true given that there is zero evidence that a transgender person has ever committed sexual assault in a public bathroom. Ever. 
At this point, Yiannopoulos throws out a grenade and claims that transgender people are "vastly disproportionately involved in sex crime." 
"Based on what statistic?" Wilmore says. Yiannopoulos may have willfully misinterpreted a statistic showing that transgender people are disproportionately the victims of sex crimes. 
"That's not a controversial statistic," Yiannopoulos said, before calling transgender people mentally ill and comparing them to sociopaths. Wilmore then reminded Yiannopoulos that homosexuality was once considered a mental disorder. 
When Malcolm Nance, a panelist and U.S. counterterrorism and intelligence officer, steps in and begins to speak, Yiannopoulos begins to bicker with him. When Maher calls him out for bickering, Yiannopoulos says, "You always invite such awful people on your show, they're so stupid. You need to start inviting higher-IQ guests." 
Wilmore then responds, "First of all, you can go fuck yourself, alright?" 
He continues, "If your argument is that these people are stupid, you didn't hear a word this man said earlier in this segment, because he can talk circles around your pathetic, douchey little ass. And one last thing and I'll let you defend it, Leslie Jones is not barely literate, go fuck yourself again for that one." 
"She can barely spell," Yiannopoulos replies. 
Maher, who only minutes prior had failed to press Yiannopoulos on any of his controversial stances and actions, including mocking a transgender woman in the audience at the University of Wisconsin-Milwaukee or inciting a violent protest at University of California, Berkeley, chided the Breitbart editor for going too far in his personal attacks and said he wasn't helping the longevity of his career in doing so. 
Perhaps what best sums up Yiannopoulos' popularity is this moment from later in the segment. 
"The worst people on the very far left and the very far right all hate me," Yiannopoulos said, responding to Nance when asked about his ties to the alt-right movement. 
"I think you're leaving out a lot of people," Wilmore replied.