Ellen DeGeneres presented this Muslim refugee with a check for her student debt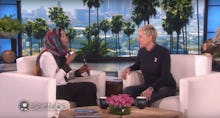 Ellen DeGeneres may be doing more to help with student debt relief than the Department of Education.
On Friday's episode of The Ellen Show, DeGeneres read a letter from Muslim refugee Ekhlas Ahmed, who shared her story of coming to the U.S. unable to learn English and eventually learning the language by watching DeGeneres' daytime show and transcribing everything she said. 
DeGeneres brought a tearful Ahmed, who is now a graduate student, activist and high school English teacher, onto the stage to speak with her after reading the letter Ahmed wrote to her. 
"I wanted to let you know how I felt. I was a senior in college and I was thinking, besides my parents, who was the person that helped me get here? Who was that person? And I couldn't think of anybody except for you," Ahmed said. 
Ahmed shared the story of growing up happy in Sudan but having to leave because of the genocide in Darfur. 
"My parents wanted a better life for us and they had to take us out of there," Ahmed said. According to Maine Public, Ahmed's family stopped in Egypt for two years before settling in Portland, Maine. 
When DeGeneres asked Ahmed why she chose to watch her show of all the shows on television, Ahmed said, "Because your show is the funnest show on TV and also because we didn't have cable, actually, to be honest." 
DeGeneres presented Ahmed with a $22,000 check from Shutterfly to settle her student debt. 
Beneath DeGeneres' generous act is a healthy bit of shade. Sudan is one of the seven countries named in Donald Trump's executive order banning all refugees from entering the United States for 120 days and suspending entry of immigrants from seven Muslim-majority countries.