Norma McCorvey, Jane Roe of 'Roe v. Wade' Supreme Court case on abortion, dead at 69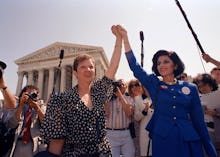 Norma McCorvey, known most famously as Jane Roe, the pseudonymous plaintiff in the landmark 1973 U.S. Supreme Court case Roe v. Wade, which legalized abortion in the United States, died Saturday at an assisted-living facility in Katy, Texas, the Washington Post reported.
Joshua Prager, a journalist currently working on a book about the Supreme Court case, confirmed the death to the Post. 
McCorvey won the legal right to an abortion by a 7-2 vote in the Supreme Court. The decision not only opened the doors for women to have an abortion in the first term of their pregnancy, but also allowed states to regulate the procedure in women's second and third trimesters. This decision saved women from unsafe procedures. As of January, 59% of Americans believe that abortion should be legal in all or most cases, according to the Pew Research Center. 
Since McCorvey's Supreme Court victory, first-trimester abortion has become one of the safest medical procedures for women in the United States. The overwhelming majority of U.S. women who have the procedure don't regret it. 
Though her case was responsible for making abortion legal nationwide, McCorvey eventually became an anti-abortion-rights activist in 1995 and joined the anti-choice group Operation Rescue. She was baptized as a born-again Chrisitian by the group's president Flip Benham. 
"The heart of the person who most symbolized abortion in this country has been touched and captured, if you will," Bill Price, president of Texans United for Life, said, according to the New York Times. 
She later founded her own anti-abortion rights organization, Roe No More Ministry. 
McCorvey reportedly felt abandoned and unwelcome by leading pro-choice activists. 
"She was shut out of many national pro-choice celebrations," Gloria Allred, an abortion-rights advocate who served as McCorvey's lawyer for several years, told the New York Times. "She attended but for the most part she was not invited and it was a very hurtful experience. It was very troubling and upsetting to her over the years." 
Though the abortion rate is the lowest it's been in decades, the right to a legal and safe abortion is still under threat. In January, Iowa Rep. Steve King introduced a bill banning abortions when a fetal heartbeat is detectable, at about six weeks. Donald Trump has said that abortion would be overturned during a Trump presidency.
Correction: Feb. 18, 2017