Donald Trump's budget would cut public broadcasting, drug programs, arts endowments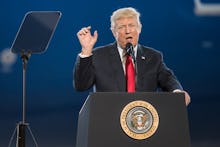 President Donald Trump's first budgetary proposals would axe nine major programs from the federal government, targeting institutions that currently do everything from fighting drug addiction and providing legal aid to funding artistic grants and public broadcasting.
On the chopping block, according to the New York Times, are the Corporation for Public Broadcasting (which supports PBS and NPR), the Legal Services Corporation, Americorps, the National Endowment for the Arts and Humanities, the Office of National Drug Control Policy and the Export-Import Bank, among others.
Cumulatively, the cuts would save around $2.5 billion — a relatively small slice of the government's $4 trillion annual budget. But "administration officials want to highlight the agencies in their coming budget proposal as examples of misuse of taxpayer dollars," according to the Times.
If Trump moves forward with the plan, it would indicate either he plans on governing as one of the most fiscally conservative presidents in memory or is throwing Republicans in Congress a bone, as he plans to pay for ambitious programs like a wall on the U.S. border with Mexico without raising overall federal spending.
As a candidate, Trump repeatedly promised to take the axe to some government programs and to slash taxes while simultaneously promising increased spending on the military and infrastructure. His new budget director, Mick Mulvaney, was a co-founder of House Freedom Caucus — the center of the small-government movement in the House of Representatives — and is a staunch opponent of any new government spending.
According to the Hill, prior reports indicate the cuts will extend much further into more high-level agencies.
"The departments of Commerce and Energy would see major reductions in funding, with programs under their jurisdiction either being eliminated or transferred to other agencies," the Hill wrote in January. "The departments of Transportation, Justice and State would see significant cuts and program eliminations."
Per the Times, Trump's staff plans on finishing its hit list of programs by Friday and asking for those agencies to respond by March 13.