Donald Trump fans and protesters personify national divide at Florida campaign rally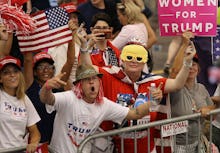 MELBOURNE, Fla. — The Sunshine State became a microcosm of the national divide over President Donald Trump this weekend, with passionate protesters and fans facing off as the embattled commander-in-chief dropped in for a campaign rally.
Barely a month into his tenure, Trump took Air Force One to Florida's "Space Coast" for a stump speech that drew thousands of fans — some of whom later traded barbs with demonstrators who called the president a fascist and a Russian puppet.
Supporters filing out of the rally held at a hangar at Orlando Melbourne International Airport jeered "Get a job!" and catcalled that the demonstrators were paid to be there. The opposition responded with now-traditional chants of "No Trump, no KKK, no fascist USA!"
A police officer said the campaign had clocked the rally turnout at 9,000 when Air Force 1 touched down with the president and first lady aboard. 
Supporters, including some who had waited since before dawn, cheered as Trump once more laid into the press, promised jobs and a stronger military and better treatment of veterans. (He also made reference to a violent incident in Sweden that apparently didn't happen.)
"So excited. I told everybody in my office, 'He's gonna win, he's gonna win, he's gonna win,' and hallelujah, praise the Lord, he won," said a Trump fan who made a surprise cameo in a Mic reporter's live broadcast. 
He offered a pat on the back and some parting advice: "Report the truth."
Trump's hammering at the notion that he's under siege by a dishonest press played well with the legions of supporters in the muggy airplane hangar.
But in personal interviews, the president's backers tended to differentiate between a faceless "crooked" press and the honesty of individual reporters.
Tara Shaw, 31, a microbiology student, and boyfriend Brian Rimer, 47, a contractor, said in an interview they feel the media doesn't do enough to differentiate between straight facts and commentary.
"That's what he's here for: To take on the press. They're just liars. Not you," Rimer told a reporter. 
"You got a brain, you know they're liars," he said. "Their tone and their hatred is just pathetic."
Added Shaw: "I just feel like news isn't news anymore... It should be established that it's commentary and opinion and not factual news, and that's what I think a lot of these people can't tell the difference on."
Trump supporter Jenifer Fronk of Melbourne, FL said she thinks the new president is doing a great job, but might be slightly "overstating" the degree of his supposed mistreatment by media outlets.
"There's probably ones that definitely don't favor him. Obviously, that's going to happen. But I think all in all, it's fair. The media has to report the news. Some people do put their own spin on it, but his message is the same and it's consistent," Fronk said after the rally. 
"You, as a citizen, have to filter out and know what you're going to trust and what you're not."
Across the road, hundreds upon hundreds of demonstrators lined up well ahead of Trump's arrival. 
They denigrated him as a national embarrassment and a supposed Russian conspirator. They demanded his promised tax returns and even his impeachment and waved signs supporting a free press.
For at least one family, the day provided an early lesson in the art of protest.
"It's a great opportunity to teach kids about civics, public engagement, how the government works," said engineer Kailas Narendran, 37, cradling his daughter Petra, 4. 
"And what to do when you don't like what's going on, to peacefully protest and to try to be heard," added his wife, Dr. Katie Fillion, 37, who was keeping an eye on their daughter, Denali, 8.
"In our district, our Republican representatives and our senators aren't taking our calls or are saying we're paid protesters," Fillion said, "so we don't have any recourse except to take to the streets and try to get the attention of the media."
Denali had her turn on the megaphone, leading the crowd in a chant of, "No hate, no fear. Immigrants are welcome here." 
She was protesting Trump, she said, because "he's not so good, because he doesn't like anyone. Oh, and he also lies a lot."