This Presidents' Day, take a moment to celebrate the accomplishments of the first ladies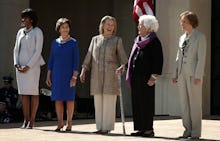 Though Presidents' Day is the time to recognize the achievements and tenures of those who've served as commander-in-chief, it's also important to celebrate the White House's other main occupant: the first lady.
First ladies, from Martha Washington to Melania Trump, are often best known for their social role, as they entertain White House guests and spearhead state events. But first ladies are often political figures in their own right, helping to shape policy and advocate for important issues.
Here are just a few of the accomplishments that first ladies throughout history have achieved.
Dolley Madison
The wife of fourth president James Madison, Dolley Madison was an overwhelmingly popular public figure in her day. Madison is regarded as being responsible for shaping the first lady's position as it exists today. The National Women's History Museum notes Madison "[set] the bar upon which all later first ladies have been judged."
Madison is perhaps best remembered for saving an original portrait of George Washington from the White House before it was set on fire by the British during the War of 1812. However, the first lady was also notable for other trailblazing accomplishments, including her role in redecorating and restructuring the White House (then considered to be a man's job), becoming the first wife of the president to give a newspaper interview and helping to found the Washington Orphan Society. Following her husband's death, Madison became the only first lady granted an honorary seat in the U.S. House of Representatives, the NWHM notes, and was also the first private citizen to send a telegraph.
Caroline Harrison
Harrison, who passed away in 1892 while husband Benjamin Harrison was still in office, was a staunch advocate for women's rights. The first lady served as the first President General of the Daughters of the American Revolution and fundraised for Johns Hopkins University Hospital only after they agreed to admit women. 
Additionally, Harrison also played a key role in decorating the White House, and was responsible for installing electricity in the building.
Eleanor Roosevelt
Roosevelt, who served as first lady for 12 years alongside President Franklin D. Roosevelt, is perhaps the greatest first lady in American history, topping the Siena College Research Institute's ranking of first ladies five times over the course of 32 years.
"Put Eleanor Roosevelt's picture next to first lady in any text," Siena Research Institute Director Dr. Don Levy said in a statement. "Not only is she most highly rated overall and in many of categories, but among first ladies of the 20th -21st centuries, she is seen as best on advancing women's issues, as the strongest communicator, greatest political asset, performing the greatest service to the country after leaving office and as creating a lasting legacy." 
Roosevelt was a tireless champion of women's rights who worked with such organizations as the International Congress of Working Women, the Women's International League of Peace and Freedom, the Women's Trade Union League and the League of Women Voters. 
Roosevelt also championed women's rights during her "My Day" column, which she wrote six days a week, and established press conferences during her time in the White House that were only open to female journalists. The National First Ladies Library notes these press conferences brought more women into the White House Press Corps and allowed them to write about substantive policy issues for the first time. The former first lady also advocated for women's employment during the New Deal and World War II.
Jacqueline Kennedy Onassis
Though the glamorous first lady is often best regarded as a fashion icon, Jacqueline Kennedy made numerous contributions during her tenure as first lady, even as she often tried to avoid the spotlight. She was a passionate advocate for the arts, and her efforts to establish a cabinet-level department of the arts, though never realized, led directly to the creation of the National Endowments for the Arts and Humanities during Lyndon B. Johnson's presidency. 
Kennedy is also recognized for her restoration of the White House itself, which she hoped would now be seen as a living museum. Her historical preservation efforts continued after her husband's death; in conjunction with the New York Municipal Art Society, the former first lady played a key role in preserving a number of New York City buildings, most notably Grand Central Terminal.
Betty Ford
In addition to founding the Betty Ford Center, the former first lady and wife of President Gerald Ford was influential in her support of women's rights. Betty Ford lobbied in favor of the Equal Rights Amendment and publicly supported the Supreme Court decision in favor of legal abortion. In October 1975, Ford delivered a revolutionary speech at the International Women's Year Conference, in which she declared, "Why should my husband's job or yours prevent us from being ourselves? Being ladylike does not require silence."
Ford's tenure as the first lady was also marked by her frankness in discussing her personal life, including her breast cancer diagnosis, which, the First Ladies Library notes, reportedly inspired tens of thousands of women to get mammograms.
Rosalynn Carter
Ford's successor as first lady, Rosalynn Carter, played an active political role in her husband Jimmy Carter's presidency. Carter attended Cabinet and National Security Council meetings and served as a liaison between the president and the American public. In June 1977, Carter made a diplomatic visit to Jamaica and countries throughout South America as the president's personal representative, where she held meetings with policy leaders.
Carter was also a staunch advocate for mental health, and served as the Active Honorary Chair of the President's Commission on Mental Health during her husband's presidency. After leaving the White House, Carter created the Carter Center's Mental Health Task Force and has served as the chair of both that organization and the International Committee of Women Leaders for Mental Health. Carter also established the annual Rosalynn Carter Symposium on Mental Health Policy, which brings together leaders of national mental health organizations. 
Hillary Clinton
In addition to serving as Secretary of State and becoming the first female presidential candidate for a major party, Hillary Clinton has a long list of accomplishments in her continued activism for women's and children's rights. As first lady, Clinton helped to establish the Children's Health Insurance Program and Department of Justice's Office on Violence Against Women, as well as led the U.S. delegation at the United Nations Fourth World Conference on Women, where she proclaimed in a speech that "women's rights are human rights."
Outside of her White House tenure, Clinton served as an attorney for the Children's Defense Fund and the congressional committee that investigated Richard Nixon's impeachment, as well as co-founded the Arkansas Advocates for Children and Families organization.
Michelle Obama
Michelle Obama was already an accomplished lawyer and community leader prior to her time in the White House. During her time as first lady, Obama most notably tackled the issue of child obesity by working to transform school lunches, make healthy food more accessible and transform nutrition labels. 
In addition to her healthy living initiatives, Obama also fought for veterans by launching the Joining Forces initiative and advocated for girls' education through the Let Girls Learn program.