Longtime AIDS activist Bono just met Mike Pence. What do you think they talked about?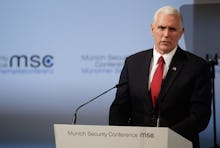 Given Bono's long record of activism and his contributions to the global fight against AIDS, one might think that the last thing he would do upon meeting Mike Pence would be to commend the vice president's work in helping to end the disease. 
Yet when Bono met Pence at the Munich Security Conference on Saturday, that's precisely what he did. 
The singer applauded the vice president for his support of the President's Emergency Plan for AIDS Relief, or PEPFAR, in 2003, when Pence was just a congressman pushing an anti-abortion agenda. 
"Twice on the House floor you defended that," Bono told Pence, with apparent gratitude. "That's how we know you."
But if Bono knows Pence in the context of HIV/AIDS, it's hard to imagine there wasn't one other incident lurking at the back of the U2 frontman's mind. 
As governor of Indiana, Pence prioritized what is arguably his highest career ambition, defunding Planned Parenthood, over the health of his constituents. The war on Planned Parenthood meant doors closed at Scott County, Indiana's, single HIV testing facility: a Planned Parenthood that did not provide abortion services. Pence presided over an HIV outbreak that was so severe, he ultimately declared it a state of emergency. 
That he waited a dangerously long time before green-lighting a needle exchange program only made the outbreak worse, over 20 new HIV diagnoses handed out weekly at the epidemic's peak in 2015. 
So weird how that didn't come up.