Over 100 workers lost jobs after striking on 'Day Without Immigrants'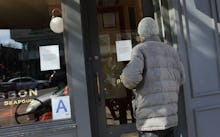 More than 100 workers across the country were terminated from their positions for taking place in the Feb. 16 "Day Without Immigrants" protest against President Donald Trump's immigration agenda and his plans to build a wall on the U.S.-Mexico border, Slate reported.
Across the U.S., media reported a number of mass firings, as well as resignations in response to those firings. Encore Boat Builders LLC in Lexington, South Carolina, fired 21 workers, KHOU reported. Meanwhile, ABC 2 reported that in Nashville, Tennessee, Bradley Coatings, Inc. terminated 18 people for taking part in the protests.
Thirty more lost their jobs in Denver, Colorado, after JVS Masonry owner Jim Serowski fired them, though he said the employees who took the day off could re-apply for their positions. Orange and Blue in Miami, Florida, fired four workers, prompting 17 others to quit their jobs.
Numerous other workers from a variety of industries were fired around the country, according to Slate, with 25 workers on Long Island, New York, 12 in Catoosa, Oklahoma, and six in King of Prussia, Pennsylvania, all reported fired.
While it's unclear how many people participated in the strike nationwide, it was nonetheless successful in shutting down businesses.
Numerous restaurants halted service across the country in solidarity with the strikers.