'Pokémon Go' Gen 2 Update: Global Pokédex upgraded with new Johto Pokémon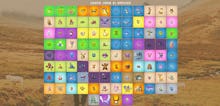 There are over 80 new Gen 2 Pokémon running around in Pokémon Go. That's a lot of fresh Pokémon to get to know if you aren't familiar with the main Pokémon games and all these new species. So if you're feeling overwhelmed by this update we don't blame you.
Thankfully, Silph Research group has updated its Global Pokédex (a tool for looking up Pokémon stats) with a section for Gen 2 Pokémon. That makes it easy to get to know all the adorable little monsters you're going to track down and catch, along with which ones will make the best gym battlers.
Pokémon Go Gen 2 Update: Global Pokédex expands to cover the Johto Pokémon
All members of a Pokémon species share basic stats with one another. When we talk about individual values and how they provide small bonuses to Pokémon stats, the base stats are what the IVs modify. So you can get an idea as to which Pokémon species are most powerful by looking at their attack, defense and stamina. 
Here's an example from the updated Global Pokédex:
All Pokémon species have a variety of potential quick moves and charge moves, with an optimal moveset for each species, (i.e. the moveset that does the most damage the fastest in battle). The Global Pokédex breaks down information on types of Pokémon moves very clearly, which is useful for gym battlers.
Pokémon species are also defined by what elements they are weakest and strongest against, which is also valuable knowledge for gym battlers. If you know your Pokémon's advantages and weaknesses, you also know which Pokémon it does and does not want to fight against.
The Global Pokédex places all of this information in one convenient place. It's another example of the wonderful tools that the Pokémon Go community has designed in place of the official information that Niantic seems determined not to provide.
Check out more Pokémon Go guides, tips and tricks
If you're booting up the game for the first time in a while to get ready for Gen 2, be sure to check out Mic's guides on how to get stardust, how to determine how long it will take you to reach level 40, the kind of Pokémon you get from 10-kilometer eggs, how to create new PokéStops, how to maximize your chances of catching Pokémon and how PokéStops distribute Pokémon eggs. Also check out how to catch Gen 2 baby Pokémon, our analysis of post-balance update Chansey and Rhydon and everything you need to know about finding the long-awaited Pokémon Ditto.