Video of Milo Yiannopoulos passionately defending pedophilia resurfaces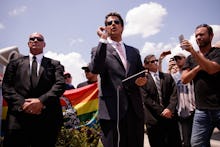 Milo Yiannopoulos, an alt-right troll and Breitbart editor, defended pedophilia as a way for young boys to "discover who they are" in a newly released video of a 2016 appearance on the Drunken Peasants podcast. 
The clip, in which Yiannopoulos attacks the "arbitrary and oppressive idea of consent," was posted on Twitter by the Reagan Battalion, a conservative blog, ahead of this week's Conservative Political Action Conference, where the alt-right provocateur is scheduled to give a speech.
"People are messy and complex and actually in the homosexual world particularly, some of those relationships between younger boys and older men, those coming-of-age relationships, the relationships in which those older men have helped those young boys to discover who they are and give them security and safety and provide them with love and a reliable, a rock, where they can't speak to their parents," Yiannopoulos said.
When a host suggested that what Yiannopoulos had described sounded like Catholic priest molestation, the Breitbart editor quipped, "I'm grateful for Father Michael. I wouldn't give nearly such good head if it wasn't for him."
The full episode was originally posted online by the Drunken Peasants on Jan. 4, 2016.
When the comments resurfaced Sunday night, Yiannopoulos issued a lengthy defense on Facebook in a "note for idiots." 
"I do not support pedophilia. Period. It is a vile and disgusting crime, perhaps the very worst," Yiannopoulos wrote, blaming the controversy on establishment conservatives seeking to discredit him and "sloppy" phrasing in his use of the word "boy."
"Gay men often use the word 'boy' when they refer to consenting adults," Yiannopoulos wrote. "I understand that heterosexual people might not know that, so it was a sloppy choice of words that I regret."
But in the clip, he seems to suggest that children are capable of giving consent. 
"You're misunderstanding what pedophilia means," he said. "Pedophilia is not an attraction to somebody who is 13 years old who is sexually mature. Pedophilia is an attraction to children who have not reached puberty."
In his "note for idiots," Yiannopoulos described his "Father Michael" joke as "gallows humor," writing, "If I choose to deal in an edgy way on an internet livestream with a crime I was the victim of that's my prerogative."
Yiannopoulos discussed his alleged molestation in a separate video, also shared by the Reagan Battalion, of a 2016 podcast with Joe Rogan. In it, he again seems to defend pedophilia and describes a sexual assault committed against him at age 14 as "perfectly consensual."
Yiannopoulos came under fire after his comments resurfaced on the internet, with some — including CNN's Jake Tapper — blasting CPAC for giving him a platform to speak.