Sweden's official Twitter account is dragging Trump for lying about a terrorist attack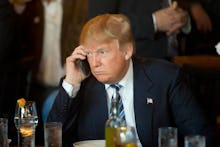 On Saturday, President Donald Trump sparked confusion around the world when he insinuated during a speech that something terrible had happened "last night in Sweden."
That horrible atrocity was not a terror attack but, it seems, a story on Fox News, which alleged the Scandinavian country had seen a spike in crimes committed by immigrants.
The president doubled down on his Sweden fearmongering on Monday, tweeting that reports of Sweden's immigration and crime being under control was another case of the "FAKE NEWS media" getting it wrong.
Sweden, however, is fighting back. The official @sweden Twitter account, a citizen-run account controlled by a different Swedish citizen each week, immediately responded to Trump's latest Sweden tweet by pointing out the facts.
In a thread on Twitter, @sweden — currently run by a Swedish citizen named Max — reported a string of facts showing that Sweden isn't the crime-ridden country Trump claims it is. The country, for instance, is currently experiencing falling rates of unemployment and crime, has a high gross national income and is considered to be the "goodest" country in the world.
The Swedish government's official account joined in, too, introducing us to a helpful Swedish term for these trying times: källkritik — which translates to "fact check."