Mike Pence is being praised for his response to an HIV outbreak. There's one big problem.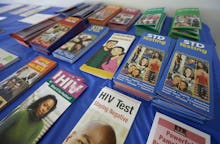 Vice President Mike Pence is having a shockingly good Presidents Day weekend when it comes to his record on HIV/AIDS. Pence was praised by Bono for his support of the President's Emergency Plan for AIDS Relief when the two met on Saturday and a Politico article published on Monday applauded the former Indiana governor's use of the Affordable Care Act to tackle Indiana's HIV outbreak in 2015.
There's one thing that might have been helpful for Politico to mention, though: That HIV outbreak — which caused 20 new HIV diagnoses per week at its peak — was in large part Pence's fault.
As a congressman and then governor of Indiana, Pence helped cut funding to Planned Parenthood clinics in the state, which forced the closure of five rural clinics that provided HIV testing — including one in Scott County, the epicenter of the HIV epidemic that ensued.
In an interview with the Huffington Post, Patti Stauffer, the vice president for public policy for Planned Parenthood of Indiana and Kentucky, said the closed clinics could have been a "vital resource" in preventing the outbreak.
Scott County's lack of a clinic, Stauffer explained, "is a glaring example of the kind of public health crisis that results when prevention and testing are left unfunded."
Other factors under Pence's control, too, contributed to the massive HIV epidemic. Though Pence eventually instated needle exchange programs in response to the crisis, the state's previously restrictive laws on needle exchanges likely contributed to the initial outbreak.
A study conducted on the outbreak in the New England Journal of Medicine reported that "substantial barriers to syringe exchange" existed in the affected Indiana communities. Needle exchange programs, the study noted, reduce the risk of HIV infection by 56%.
Additional factors that likely played a role in the HIV outbreak include the state's moratorium on opioid treatment programs, which was later lifted in 2015, and a drug policy based on criminalization of drug use, rather than treatment.
"The state of Indiana does not invest adequately in public health," Carrie Lawrence, a faculty member at the Indiana University School of Public Health Rural Center for HIV/STD Prevention, told USA Today. "I think [the HIV outbreak] could've been prevented, and that's a common narrative across the board. We need to strengthen all sorts of systems."