Texas hunters accidentally shot each other and tried to blame Mexican immigrants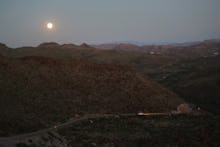 Two men shot in January near the Mexico border in Texas were wounded by "friendly fire" from their hunting parties — not undocumented Mexican immigrants, as one of the men had claimed, according to police.
Walker Daugherty and Michael Bryant — both of whom are guides with Redwing Outfitters, which promises "a Christian atmosphere, fun hardworking professional guides and a ton of enthusiasm" — were indicted on charges of using deadly conduct by by discharging firearms in the direction of others, San Antonio's KTSA reported. 
On Jan. 6, Daugherty, 26, of New Mexico, is believed to have shot Edwin Roberts, a 59-year-old Florida chiropractor who was hunting at a ranch in the border town of Candelaria, Texas. Daugherty, who was also hunting at the ranch, was apparently shot and wounded by Bryant, a member of his hunting party. Daugherty and Roberts were airlifted from the scene. 
Daugherty and his fiancee told responding officers they believed that undocumented immigrants from Mexico had been responsible for the shooting, a claim Texas Agriculture Commissioner Sid Miller — who has a history of propagating fabricated or misleading news stories — used as "proof" that President Donald Trump's proposed border wall was necessary. The story went viral on the internet and Dougherty raised more than $20,000 on GoFundMe to cover his medical expenses. 
But shortly after the shooting at Circle Dug Ranch, the Presidio County Sheriff's Department determined that "there were no bullet casings or projectiles from weapons other than those belonging to the individuals hunting on the ranch nor in the RV belonging to the hunting party," according to a statement, and that there was "no evidence that suggests 'cross-border violence.'"
Daugherty and Bryant face third-degree felony charges. 
Bobby Whithorne, a spokesperson for GoFundMe, wrote in a statement to Mic that because donations to GoFundMe campaigns are guaranteed, donors are eligible for refunds if law enforcement or users find that funds are abused.
"In this case, GoFundMe will honor refunds to any donor misled by the information provided by this campaign," according to Whithorne. Refunds can be provided by the crowd-funding site by filing a claim. 
A spokesperson for Miller told Big Bend Now in Marfa, Texas, that the story was passed along to him by the family and that "no one had contacted us to say it was untrue."
"We don't believe the need for prayer has diminished," spokesperson Todd Smith said. 
In Miller's post — which was shared over 6,500 times and has since been deleted — he called for a border wall to prevent "many more Walker Daughertys."
"This is why we need the wall and to secure our borders," Miller wrote. "There are violent criminals and members of drug cartels coming in and it must put a stop to it before we have many more Walker Daughertys."
Feb. 21, 2017, 5:38 p.m. Eastern: This story has been updated.
Correction: Feb. 21, 2017