How advertisers snuck diversity into the 2017 'Sports Illustrated' Swimsuit Issue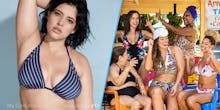 It was just last year that the Sports Illustrated Swimsuit Issue made waves when they had, for the first time ever, cover models that weren't tall and thin with curves in only the most socially accepted places. On two of its covers, there was Ashley Graham, who's a size 16, and then there was Ronda Rousey, who is a muscular mixed martial artist. 
It felt like progress. It felt like the future we'd been hoping for, in which diverse body types are celebrated on such a huge platform.
But this year, it felt like the magazine took a step back. 
Rather than continuing its dedication to diversity, the 2017 swimsuit issue had the same model — a white, thin, blonde model by the name of Kate Upton — on not just one cover, but all three covers. 
Although this may initially feel like a letdown and a digression from last year, the inside is a completely different story. In this year's Sports Illustrated swimsuit issue, the ads are where the diversity is at. 
Take Swimsuits for All's ads, which appear in the issue. Because of these ads, women who are not models, nor famous at all, so-called "real women," are appearing in the issue for the very first time. 
The women are various sizes and shapes and ages and races, all posing next to Ashley Graham. 
"I was so excited to shoot with local women for this shoot, non-models who represent all different body shapes, proving that everyone can look gorgeous in my swimsuits," Graham said in a press release. "We're continuing to shift perceptions of beauty and encouraging more inclusivity in the fashion industry. I'm proud that my collection is the first to offer sizes 6 through 22, and I cannot wait to see even more ladies rock these sexy suits!" 
Last year, Swimsuits for All also introduced a new level of diversity into the pages of the issue as well, with ads that showcased a 56-year-old model, Nicola Griffin, making her the oldest model to ever appear in the swimsuit issue at that time. 
"I hope that my presence in #SwimSexy will make the public think about how society has determined what makes someone beautiful and sexy," Griffin previously told Mic. "Rarely do you see older women in fashion campaigns, and I am pleased that #SwimSexy shows people that women of all shapes, ages and walks of life are gorgeous."
In addition to Swimsuits for All's efforts, there are also the Lane Bryant ads that appear in the issue. 
This year, for the first time, stretch marks are proudly on display, and it's because of a Lane Bryant ad featuring model Denise Bidot. 
"It's an honor to be in the @lanebryant ad featured in the pages of the 2017 @si_swimsuit, completely unretouched," Bidot wrote on Instagram. "It's amazing to be a part of the change that's helping women see once and for all that nobody is perfect. We can still be beautiful in spite of our imperfections. It's time we celebrate each other and learn to love the skin we are in." 
According to another Instagram post from the model, the ad appears at the front of the book. 
In addition to these few ads, Sports Illustrated did at least try to amp up the diversity on the inside pages, highlighting Serena Williams and Graham, as well as gymnasts Aly Raisman and Simone Biles, Christie Brinkley, who's 63 years old, and plus-size rookie Myla Dalbesio. But here's the thing: They didn't get the cover. Yes, it's an amazing feat that they're featured at all, but with Sports Illustrated's one shot to make a statement on female beauty a year, they chose to highlight a skinny white woman above all others yet again. 
Meanwhile, advertisers like Lane Bryant and Swimsuits for All didn't take their one shot lightly, and tried to shine a light on the kinds of women Sports Illustrated rarely celebrates.