Oscar-nominated 'Loving' actress Ruth Negga is the best-dressed woman in Hollywood. Here's proof.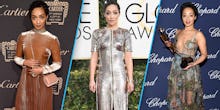 Ahead of Sunday's Academy Awards, plenty of people will have their eye on already certified red-carpet staples like Nicole Kidman, Meryl Streep, Emma Stone and Viola Davis. After all, they're veterans of the Oscars ceremony, turning out in sweeping and elegant gowns time and time again. 
But if you're only looking out for those women, you could very well be missing out on the single most interesting dresser the 2017 Oscars has to offer — a woman who's just now making her Oscars red-carpet debut but who's already been quietly killing the fashion game at every turn. 
A woman by the name of Ruth Negga. 
For us, it was the 2017 Golden Globes where Negga cemented her status as a woman to whom we should absolutely pay attention. She showed up there in a slinky silver-and-gold Louis Vuitton dress that made her look like Betty Boop from the year 2050. 
With her hair in 1920s ringlets and her eyes lined just right, plenty of people saw the event as Negga's coming-out as a fashion icon, someone who doesn't opt for a conventionally pretty dress. 
The look was interesting, and for a woman who's relatively new to these sorts of award shows, it paid off. 
But even before that red-carpet appearance, Negga seemed to have her eyes set on a certain charming yet eccentric aesthetic, with plenty of sparkles and ruffles and dresses that make you think: "Who's that woman?" 
One example is Negga's appearance at the Cannes Film Festival in May 2016, during which she was promoting her Oscar-nominated film Loving. She arrived in a glittery pleated dress by Suno with just a hint of animal print. 
Later on the Cannes red carpet, she stunned in a black lace Marc Jacobs. 
It seems Negga just has a knack for wearing unusual but always beautiful  outfits that make you want to know more about her. It's something no other actress right now is really capable of. 
Maybe it stems from Negga always looking like she's having a blast — like in July, when she wore pants covered in cat faces. 
Or in October, when she wore a Dolce & Gabbana cat dress to a press conference for Loving.
Negga obviously doesn't take herself — or what she wears — too seriously, and that's what makes it so fun to see what she wears to awards shows, which are typically full of pretty, stuffy people who yearn for dresses that are, above all else, photogenic. 
Throughout fall 2016, as she was actively promoting Loving, Negga had a heroic streak of stunning dresses only she could pull off — like this champagne velvet Valentino dress to the opening of a Cartier store in New York City. 
And this bright-green Prada dress with sparkles she wore to People's "Ones to Watch" event in October. 
And this black Gucci gown with snake stitching to the Governors Awards. 
And this hot-pink floral Valentino dress with velvet accents to a Hollywood Foreign Press party. 
Negga was at it again during the lead-up to the Oscars, wearing a silver-and-blue sequined skirt with a matching crop top by Erdem to a Variety brunch. 
To the Palm Springs International Film Festival, Negga wore a barely there and beautifully embroidered Valentino dress that could have looked like a negligee on anyone else. 
But on Negga, of course, it looked spectacular. 
Then, to the annual Oscar nominees luncheon in early February, she wore an unlikely pairing of a yellow sweater dotted with pink flowers and a green leather skirt, all designed by Miu Miu. 
It was an unexpected mixture of hard and soft, a typical Negga move. 
So no, maybe someone like Stone or Kidman shouldn't be the one you keep an eye on. Maybe it's not only time to give Negga a chance, but to look forward to her Oscars red-carpet debut. 
A woman who can pull off a cat dress, after all, should never be underestimated.