Milo got the boot from a conservative conference after his defense of pedophilia resurfaced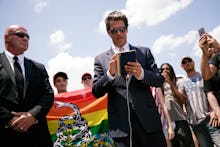 The American Conservative Union has dropped Breitbart editor Milo Yiannopoulos from this week's Conservative Political Action Conference after video resurfaced of the alt-right troll defending pedophilia, according to a statement from ACU chairman Matt Schlapp.
"Due to the revelation of an offensive video in the past 24 hours condoning pedophilia, the American Conservative Union has decided to rescind the invitation of Milo Yiannopoulos to speak at the Conservative Political Action Conference," Schlapp said in a statement. 
In a 2016 interview on the Drunken Peasants podcast, a clip of which was reposted Sunday by the conservative blog Reagan Battalion, Yiannopoulos said that relationships with older men can help "young boys discover who they are" and railed against what he called the "arbitrary and oppressive idea of consent."
After coming under fire for the comments, Yiannopoulos posted a lengthy "note for idiots" on Facebook, calling pedophilia a "disgusting crime" and blaming the controversy on a "coordinated effort to discredit me from establishment Republicans." He wrote that he had merely used "sloppy" phrasing, and that he has outed pedophiles in his work at Breitbart. 
But Schlapp said in his statement that Yiannopoulos' Facebook response was "insufficient" and urged him to further address his comments.
"We continue to believe that CPAC is a constructive forum for controversies and disagreements among conservatives," Schlapp said, "however there is no disagreement among our attendees on the evils of sexual abuse of children."