Donald Trump names Army's Lt. Gen. H.R. McMaster national security adviser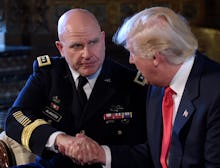 Today President Donald Trump announced the appointment of Army Lt. Gen. H.R. McMaster to serve as his national security adviser. McMaster will be the first active-duty military officer to hold the position since Colin Powell served under President Ronald Reagan in the late 1980s.
"He is highly respected by everyone in the military and we're very honored to have him," Trump told reporters in Mar-a-Lago, his Florida gold resort, where he appeared alongside McMaster to make the announcement.
McMaster, who served in Iraq and Afghanistan, is known among military buffs as an officer intellectual — he boasts a weighty list of recommended reads on American foreign policy and military history. 
His 1997 book, Dereliction of Duty, "critiqued the Joint Chiefs for not standing up to President Lyndon B. Johnson during the Vietnam War," according to the New York Times — a theme that some conservatives are now delighting in, but at least one journalist pointed out could potentially lead to some tension with the lie-prone president. "McMaster made his name on a book about the need to call out presidential lies," Washington Post intelligence reporter Barton Gellman said on Twitter.
Flynn resigned amid scandal after it was revealed that he misled Vice President Mike Pence about his discussions with Russia during the presidential transition.
McMaster, whose position atop Trump's National Security Council does not require Senate confirmation, comes to the Trump administration from the Army. CNN's Barbara Starr reported that, because active-duty military personnel cannot turn down presidential directives, it would have been difficult for him to refuse the appointment.
Trump has had some difficulties filling Flynn's shoes. Last week, retired Gen. Bob Harward turned down the NSA job, according to the Financial Times — a rejection reportedly solidified by Trump's bizarre press conference last Thursday. Harward, according to the FT, called the job offer a "shit sandwich."
Trump's appointment of McMaster brought praise from across the political spectrum — including from right-wing magazine editor and Trump critic Bill Kristol. "I can't imagine anyone better prepared for the challenges of being Trump's NSA than H.R. McMaster," Kristol tweeted.
Former Democratic representative Steve Israel took to Twitter to call McMaster a "good pick!"