Milo Yiannopoulos loses book deal over pedophilia comments; 'Breitbart' weighs firing him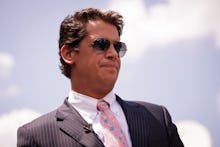 On Monday, publisher Simon & Schuster canceled right-wing provocateur Milo Yiannopoulos' upcoming book, Dangerous, that was due to be published in June. Yiannopoulos announced the cancellation on his Facebook page. 
In a statement to USA Today, the publisher said, "After careful consideration, Simon & Schuster and its Threshold Editions imprint have canceled publication of Dangerous by Milo Yiannopoulos." 
News of the cancellation comes the same day video resurfaced of the Breitbart editor making controversial comments about sex between older men and underage boys. 
"People are messy and complex and actually, in the homosexual world particularly, some of those relationships between younger boys and older men, those coming-of-age relationships, the relationships in which those older men have helped those young boys to discover who they are and give them security and safety and provide them with love and a reliable, a rock, where they can't speak to their parents," Yiannopoulos said in the video.
When an off-screen voice suggests that what he described sounds like molestation by a Catholic priest, Yiannopoulos responds: "I'm grateful for Father Michael. I wouldn't give nearly such good head if it wasn't for him."
Prior to the cancellation of his book deal, Yiannopoulos was disinvited from the American Conservative Union's Conservative Political Action Conference, set to take place later this week. ACU Chairman Matt Schlapp called Yiannopoulos' defense of his comments on Facebook "insufficient" in a statement posted to Twitter. 
Not only will Yiannopoulos' book not be released under Simon & Schuster, his job as an editor at alt-right news site Breitbart may be in danger, according to the Washingtonian. The monthly magazine reported that two sources from the publication have said that at least six employees are willing to walk if Yiannopoulos isn't given the boot. 
"The fact of the matter is that there's been so many things that have been objectionable about Milo over the last couple of years, quite frankly. This is something far more sinister," a senior editor told the Washingtonian. "If the company isn't willing to act, there are at least half a dozen people who are willing to walk out over it."
Yiannopoulos has spent Monday defending himself on his Facebook page, though he can't comment on the matter on Twitter. He was banned from the social media site after his racist attacks on Ghostbusters and Saturday Night Live star Leslie Jones. 
In a since-deleted apology on his Facebook page, Yiannopoulos once again denied that he defended pedophilia but said that he regrets some of the words used. "I don't think anything should be off limits for humor, but I do regret some of the word choices," he wrote. 
Proving that there's something to the whole Icarus myth, Yiannopoulos took this massive public tumble just as he was flying closest to the sun. His book-deal loss and potential job loss come only three days after the controversial editor appeared on his largest platform yet. On Friday, the provocateur sat down for a one-on-one interview on Real Time with Bill Maher, in which he and Maher mostly acted chummy and patted each other on the back. Later, on the Real Time aftershow Overtime, comedian and former Nightly Host Larry Wilmore told Yiannopoulos "Go fuck yourself" over his transphobic comments and his characterization of Jones as illiterate.