'NBA 2K17': NBA trade AI turned down the DeMarcus Cousins to New Orleans Pelicans deal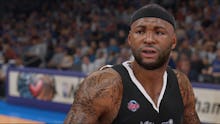 How bad was the Sacramento Kings' trade of DeMarcus Cousins and Omri Casspi to the New Orleans Pelicans for Buddy Hield, Langston Galloway, Tyreke Evans and two draft picks?
It was so bad, the artificial intelligence that regulates fair trades in NBA 2K17 wouldn't even allow it go through. Check out the evidence in this tweet from Bryan Wiedey:
NBA 2K17: NBA trades are more complicated in real life
Obviously, there are circumstances that the game doesn't take into consideration. Cousins' leadership qualities, for example, have been questioned for a while.
That dynamic makes it difficult to gauge Cousins' positive and negative impacts on the Kings' franchise. Also, Cousins is set to be a free agent at the end of next season.
The Kings could have thrown a boatload of cash at Cousins, but who knows if he would have accepted the offer — especially considering the Kings' seemingly endless struggles. 
Cousins had indicated he hoped to sign an extension with the Kings, but things can change. In reality, there's no way to know if this was a good deal or one of those cheating trades that you have to override in the video game.
More sports gaming news and updates
Are you a sports gamer? Check out more content from Mic, including news on EA Sports' 2017 plans for titles like NBA Live 18 and EA Sports UFC 3. There's also details on RBI Baseball 17, and the latest patch notes on WWE 2K17's 1.06 update.