Jewish cemetery in St. Louis vandalized amid new wave of bomb threats against JCCs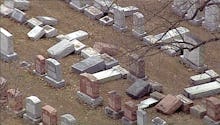 A Jewish cemetery in St. Louis was vandalized over the weekend amid escalating threats of violence against Jewish community centers. 
On Monday, the same day the JCC Association of North America announced a wave of 11 bomb threats at JCCs nationwide, local police confirmed about 100 headstones had been toppled at Chesed Shel Emeth Society cemetery in University City, Missouri, a suburb of St. Louis.
According to CNN, authorities have not officially deemed the vandalism a hate crime, but on Twitter, Missouri Gov. Eric Greitens suggested otherwise.
"Disgusted to hear about the senseless act of desecration at the cemetery in University City," Greitens wrote. "We must fight acts of intolerance and hate."
The Washington Post reported the number of grave sites damaged in the break-in topped 170. The police are reviewing surveillance footage but have not established a motive.
Yet recent weeks have seen an uptick in anti-Semitic sentiment. David Posner, the director of strategic performance of the JCC Association of North America, told CNN that 54 JCCs in the United States and Canada have received 69 bomb threats since January. In a statement, the Anti-Defamation League noted that the 11 threats announced Monday represented "the fourth series of such threats" reported in 2017. 
The White House has not commented on the vandalism at Chesed Shel Emeth Society cemetery, but it did denounce the fresh batch of bomb threats. 
"Hatred and hate-motivated violence of any kind have no place in a country founded on the promise of individual freedom," deputy White House press secretary Lindsay Walters said, according to CNN. "The President has made it abundantly clear that these actions are unacceptable."
President Donald Trump, however, has yet to respond personally. His daughter, Ivanka Trump, who converted to Judaism before she married Jared Kushner in 2009, alluded to the bomb threats in a tweet that did not specifically mention Jewish people.
"America is a nation built on the principle of religious tolerance," she wrote. "We must protect our houses of worship & religious centers."
Anti-Defamation League CEO Jonathan Greenblatt retweeted Ivanka's message, commending her support and calling on the president to "step forward & share a plan."
"His words carry weight," Greenblatt wrote. "His actions will speak even louder."
So far, Trump's silence on the subject of anti-Semitism has spoken for him. In a news conference between the U.S. and Israel Wednesday, Trump dodged a question about the recent rise in "anti-Semitic incidents" and what his administration might be doing to kindle such sentiment. Rather than denouncing anti-Semitism, Trump talked about the number of votes he won in the electoral college.   
Then, at Thursday's rambling press conference, a reporter asked Trump specifically about the waves of bomb threats. Trump's response: 
Folks, number one, I am the least anti-Semitic person that you have seen in your entire life. Number two, racism. The least racism. We did relatively well — quiet, quiet, quiet.
He added that Israeli Prime Minister Benjamin Netanyahu, whom Trump fondly referred to as "Bibi," had dismissed the matter just the day before. When a reporter followed up on the question, Trump seemed to blame his opponents for the upswing in anti-Semitism. 
Following Thursday's news conference, the ADL issued a statement condemning Trump's apparent refusal to speak out.
"On two separate occasions over the past two days, President Trump has refused to say what he is going to do about rising anti-Semitism or to even condemn it," Greenblatt and Marvin Nathan, ADL national chair said in the joint statement. "It is mind-boggling why President Trump prefers to shout down a reporter or brush this off as a political distraction. This is not a partisan issue. It's a potentially lethal problem — and it's growing."