Indigenous women of Standing Rock issue heartbreaking plea for help ahead of evacuation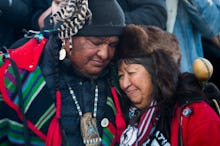 With just over a day to go before the evacuation deadline arrives at North Dakota's Oceti Sakowin camp, protesters at the Standing Rock Indian Reservation have issued a plea: Come help — now.
In a viral video shared by social justice journalist Shaun King on Monday, a group of indigenous women remind viewers that demonstrations against the Dakota Access pipeline are about much more than a single issue. They're about clean water, police brutality, treaty rights and the rights of future generations.
"In the history of colonization, they've always given us two options: Give up our land or go to jail. Give up our rights or go to jail," one woman says in the video. "And now, give up our water or go to jail. We are not criminals."  
Monthslong demonstrations at Standing Rock are scheduled to end Wednesday; the United States Army Corps of Engineers and North Dakota Gov. Doug Burgum have issued an evacuation order for the morning of Feb. 22, according to the official website for the Oceti Sakowin camp. 
Peaceful protesters gathered there seemed to score a victory in early December, when the Army Corps of Engineers denied a permit that would have allowed construction of the Dakota Access pipeline to continue along its previously planned route, under Lake Oahe. The Standing Rock Sioux Tribe opposed the pipeline on the grounds that it threatened ancient tribal lands and could pollute a crucial water source, the Missouri River. 
Yet the companies funding DAPL construction, Energy Transfer Partners and Sunoco Logistics Partners, immediately vowed they would not back down. Many Standing Rock demonstrators, meanwhile, were skeptical of the decision to halt the project and decided to stay, even as blizzards battered Oceti Sakowin camp. 
The skepticism was warranted: Within his first week in office, President Donald Trump — formerly a shareholder in Energy Transfer Partners — signed two executive orders enabling resumed construction of both DAPL and the Keystone XL pipeline. According to King's tweet, protesters are currently "surrounded by militarized police" who will enter the camp Wednesday and evacuate protesters. 
The women in the video urge supporters to come stand with Standing Rock, and fast. 
"They've been trying to take us down for hundreds of years," one woman says. "They can keep trying, and we're still going to be here, and we need help. There aren't many of us left."