Katy Perry drops "Chained to the Rhythm" music video, a pastel-hued vision of a 'Brave New World'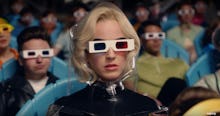 Somehow Katy Perry emerged from the fires of 2016 as one of the most woke celebrity pop stars. It must have been due to campaigning for Hillary Clinton for as long as she did. Her latest song, "Chained to the Rhythm," is protest-anthem-lite, with vague messages encouraging listeners to wake up from their "bubble," as the lyrics read, and a verse from Skip Marley telling listeners to "break down the walls to connect, inspire."
The track's accompanying video, released Tuesday, essentially makes a pastiche out of that request. It's set in a futuristic theme park, cleverly named Oblivia. Everyone walks around like bubbly, hyperpositive zombies, as if they're hopped up on Brave New World's soma or living in a sexless Pleasantville dream. It's all painted in classic Perry pastels.
The pop star recently performed the song over a similarly sociopolitically aware backdrop at the 2017 Grammys. Wearing a white pantsuit, in a clear nod to Hillary Clinton and the suffragette movement, with an armband reading "Persist," Perry sang in front of a projection of the United States' Constitution's opening lines: "We the People."
The Grammy performance and the "Chained to the Rhythm" video are likely only the first of a sea of musical offerings Perry will have for fans in 2017. It's been reported that she's already registered several songs presumably for an upcoming record, though there is no known release date. Until more news starts to roll out, enjoy Perry's sunny bop and watch the full video below.
Mic has ongoing music coverage. Follow our main music hub here.