This anti-Trump beauty brand just sponsored the first-ever London Modest Fashion Week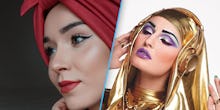 Between brands like Nike and Reebok and designers like Naeem Khan and Derek Lam, the Trump administration has undoubtedly ushered in a new age of fashion brands not keeping mum when it comes to politics. 
The latest and perhaps most stunning display of this so far comes from the U.K. makeup brand Illamasqua, which recently issued an anti-Fascism pledge for all its customers. 
In an open letter, the company explained why this felt so necessary right now. 
"Illamasqua believe in the freedom of expression, equality and diversity," Julian Kynaston, the founder of Illamasqua, wrote in the letter. "That's why we are horrified by President Trump's actions to date. We refuse to remain silent."
Taking it one step further, the brand insisted that no supporters of the Trump administration buy any of its products, mirroring the sentiments of many designers, like Tom Ford, who insisted that the Trump family themselves should not wear any of his clothes. 
"We will never knowingly sell our products to people who support President Trump's values," Kynaston said. "To be part of our community, and to buy our products, you must first pledge to Human Fundamentalism values." 
Among those "Human Fundamentalism values" that Illamasqua — a brand that often employees diverse models wearing hijabs — is talking about is never discriminating against race, color or religion and speaking up for those who can't speak for themselves.
She continued:
We're realistic. We know we can't stop anyone buying our products. But we also know that no matter how hard some people work to make themselves beautiful on the outside, makeup can never hide the ugliness inside. So please, if you don't agree with the above DON'T BUY US. Prejudice, sexism and racism should never be tolerated. Whether you're a brand or an individual, join us and, together, we can be the change we want to see."
Beyond trying to actively cut any and all ties to the Trump administration and its values, Illamasqua has put its money where its mouth is, sponsoring London's first-ever Modest Fashion Week, which ran from Feb. 18 to Feb. 19. 
Forty brands participated in the two-day event, showing exclusively modest fashion, with women in hijabs and modest clothing walking and sitting front row. 
"We are literally trying to put this type of trend on the map," London designer Bushra Shaikh, who showed during the event, told Sky News. "We know there's a demand for it, we know people need it and it needs to be available on our high street where we shop every single day... I'd like to walk down a high street and say 'You know what, that's my style, it's something I'd wear tomorrow.'" 
And indeed, the modest fashion world is one that will probably see a lot of growth and outside investment, with the industry itself reportedly worth hundreds of billions. So although Illamasqua may be risking plummeting sales with its refusal to sell to Trump supporters, maybe its embrace of the Muslim community will end up making everything worth it.